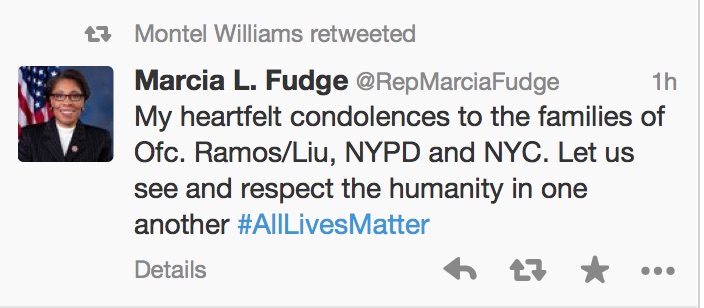 Following the murders of two New York City police officers, those who played a role inciting black outrage against the police and motivating the killer are now running for cover.
Take for example Representative Marcia Fudge (D-OH) who Tweeted condolences to the families of the murdered NYC police officers Wenjian Liu and Rafael Ramos.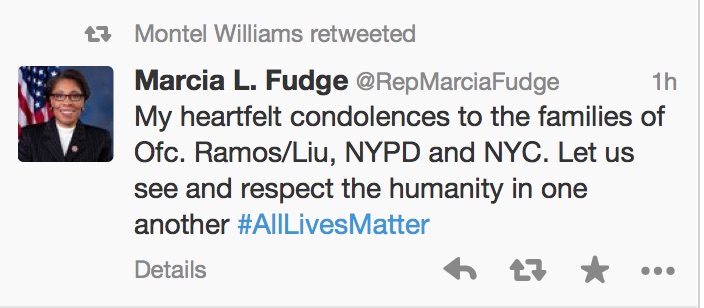 Fudge's hypocrisy is exposed by her own words.
Fudge contributed to the false narrative that Michael Brown's death was race related which helped fuel the nationwide protests against the police.
According to his social media postings, Ismaaiyl Brinsley, the killer, was seeking revenge against the police for the deaths of Michael Brown and Eric Garner.
Fudge, who also serves as the chair of the Congressional Black Caucus (CBC), made a statement during the "Hands Up, Don't Shoot" protest by CBC members on the floor of the House of Representatives.
Fudge's floor statement was reported by The Washington Post:
Other members of the CBC took the floor to echo Jeffries' point. "If we are to learn anything from the tragic death of Michael Brown," CBC Chairwoman Rep. Marcia Fudge (D-Ohio) said, "we must first acknowledge that we have a race issue we are not addressing."
Roll Call reported:
"We are running out of patience," Rep. Marcia L. Fudge, D-Ohio, said. "We waited to hear our country say loud and clear, there are consequences for taking the lives of others. We waited to hear some reassurance that black and brown boys' lives do matter. But again, we were terribly disappointed and discouraged."
Fudge's comments following the Ferguson grand jury decision were even more racially charged by insinuating that black lives don't matter.
And The Hill reported:
"It is a slap in the face to Americans nationwide who continue to hope and believe that justice will prevail," she added.

"This decision seems to underscore an unwritten rule that Black lives hold no value; that you may kill Black men in this country without consequences or repercussions. This is a frightening narrative for every parent and guardian of Black and brown children, and another setback for race relations in America," Fudge said.
Finally, after saying "black and brown boys' lives matter" on the House Floor, in her Tweet about the slain officers Fudge had the gall to switch gears and used the hashtag #AllLivesMatter.