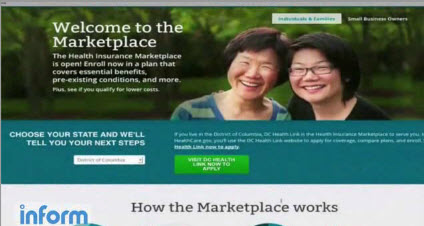 For most businesses the new year will ring in the ObamaCare employer mandate that was delayed in 2013.
Starting in 2015, businesses that employ more than 100 full-time workers will be required to offer the health care coverage mandated by the government for 70 percent of its workers or face a penalty of $2,000 per employee. In 2016, these businesses must cover 95 percent of its employees.
Small businesses that employ 50 to 99 full-time workers get one more year before they must meet the health insurance coverage requirements of the federal government or be forced to pay the penalty.
Businesses that employ less than 50 workers are exempt from the requirements of the Affordable Care Act.
The real life impacts of ObamaCare are rippling through the economy with a particular sting to small businesses.
In preparation for the 2015 mandate, some businesses decided to pass the cost of ObamaCare to their customers prior to the requirement deadline.
Last February, almost a year before the mandate, some restaurants decided to charge customers a surcharge to help pay for their employees health insurance.
Customers eating at the Gator Group's restaurants that employs about 500 workers in Florida were charging an extra 1 percent of the bill to pay for the new health care obligation for the food chain.
Investors Business Daily wrote about a trash collection company that is also passing the cost of ObamacCare to its customers.
Take God Bless the USA, a trash collection company outside Charlotte, N.C. It recently notified customers that it's raising prices 5% to help cover expenses.

"Due to the Affordable Care Act, effective Jan. 1, 2015, we are obligated to provide health care coverage to all of our employees," it explained in a Dec. 5 letter. "Unfortunately, we are unable to internalize this cost and are sorry we have to pass this cost on to you."
A major problem facing small businesses is the higher cost of ObamaCare's compliant health care plans that dictate the minimum benefits of what the policies must cover. Some businesses simply don't have the revenue to cover the additional health care costs for the expanded benefits.
Some businesses are adjusting their workforce to avoid reaching the 100 full-time worker threshold. Hiring more part-time workers has been a favorite strategy for small businesses that employ low-wage workers.
Other small business owners with less than 50 employees that were covering their employees are now choosing to dump their health insurance plans and force their employees into the healthcare exchanges. Facing increasing costs for a small group plan, a restauranteur decided to cancel the plan and have his workers get subsidized coverage through the healthcare exchange.
For business owners and their customers the new year will bring the economic reality of ObamaCare.