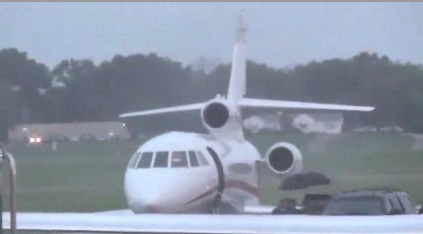 It is widely accepted that Hillary Clinton is not a "woman of the people." However, her biggest challenge is that the public does not see her as trustworthy. It's easy to see why, when the contradictions between her words and her actions seem to be growing by the day.
Just hours after Hillary Clinton unveiled her presidential campaign's push to solve global warming through an aggressive carbon-cutting plan, she sauntered up the steps of a 19-seat private jet in Des Moines, Iowa.

The aircraft, a Dassault model Falcon 900B, burns 347 gallons of fuel per hour. And like all Dassault business jets, Hillary's ride was made in France. The Trump-esque transportation costs $5,850 per hour to rent, according to the website of Executive Fliteways, the company that owns it.

And she has used the same plane before, including on at least one trip for speeches that brought her $500,000 in fees.
That's 347 gallons of fuel…. per HOUR! I wonder how many carbon credits the Clinton campaign plans to purchase to offset this trip.
The problem with the Hillary Clinton campaign isn't that she is misrepresented, the problem is that she is a hypocrite.