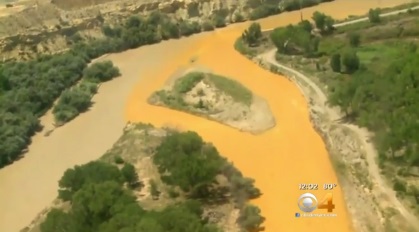 I have a new commentary posted on Conservative Review titled, "Incompetent EPA Wants More Control." It discusses the Animas River pollution and the dangers of government overreach.
The Environmental Protection Agency's (EPA) role in polluting the Animas River in Colorado brings to mind President Reagan's description of the state of federal overreach: "The nine most terrifying words in the English language are, 'I'm from the government and I'm here to help.'"

Last week, the EPA's incompetence resulted in the releasing of three million gallons of contaminated water into the Animas River, wreaking (yet untold) environmental damage on the streams of Colorado, New Mexico and Utah and putting residents on high alert. The polluted water is expected to eventually find its way to Lake Powell and the Grand Canyon.

The incident occurred when an EPA-led team was investigating a source of contaminated water from the abandoned Gold King mine in the San Juan mountains near Silverton, Colorado. Heavy equipment excavation near the mine's entrance caused a breach of soil and debris that was holding back the contaminated water.

…The EPA's pollution episode shows the left-wing industrial complex will most certainly treat one of its own differently when it comes to environmental accidents than the despised oil industry. The environmental disaster also shows the consequences for accidents are vastly different between the private sector and government.

Unlike the private sector where market forces can punish a company for poor performance or an environmental accident can lead to an immediate impact on a company's stock price and management shakeups, government agencies are immune to failure.
Read the rest of my commentary at Conservative Review here.