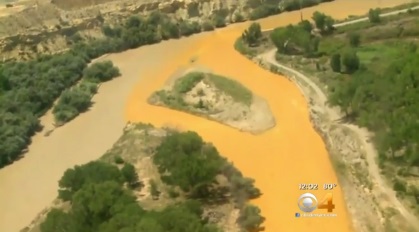 An EPA mistake turned a Colorado river into a rust-colored toxic zone, leaving residents of Colorado (and now New Mexico, where the pollution is spreading) furious.
A federal cleanup crew accidentally caused a big, and potentially hazardous, mess in Colorado, according to the Environmental Protection Agency. An estimated 1 million gallons of wastewater spilled out of an abandoned mine area in the southern part of the state on Wednesday, turning the Animas River orange and prompting the EPA to tell locals to avoid it.

"When I first saw it, I was speechless, [the river] didn't look real," said Durango, Colorado, resident Ian Lucier. "But in person, it truly looks like the river was turned into carrot juice." Accounts of the spill's striking appearance flooded social media as the waste pushed its way downriver.

According to the EPA, the spill occurred when one of its teams was using heavy equipment to enter the Gold King Mine, a suspended mine near Durango. Instead of entering the mine and beginning the process of pumping and treating the contaminated water inside as planned, the team accidentally caused it to flow into the nearby Animas River. Before the spill, water carrying "metals pollution" was flowing into a holding area outside the mine.
Imagine if the spill was caused by a private company, rather than the EPA…. Where is the outrage? Democrats and progressive members of the media hold a shameless double standard when it comes to incompetency in government.