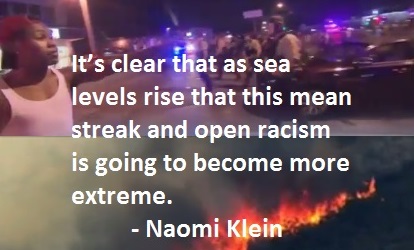 You may think you've heard every claim in the book when it comes to climate change, but have you heard this one?
According to social activist and best-selling author Naomi Klein, climate change isn't just destroying our planet — it's making racism worse, too.

"You see that in Australia where the treatment of migrants is a profound moral crisis," she said, according to a piece published in The Guardian. "It's clear that as sea levels rise that this mean streak and open racism is going to become more extreme – climate change is an accelerant to all those other issues," she continued.

Yes — "clear." The idea that racism rises with the sea is just so "clear" that no further evidence or explanation is needed. Climate change is making people more mean, and that is just a fact.
Klein is shamelessly race baiting and pushing the buttons of progressive minorities to rally support for her climate change cause. It's dishonest, and frankly, an insult to the intelligence of the minorities she's expecting to actually fall for that.
When you honestly can't tell whether a quote is from an interview or Saturday Night Live, you know liberals are grasping at straws to advance their green energy agenda.