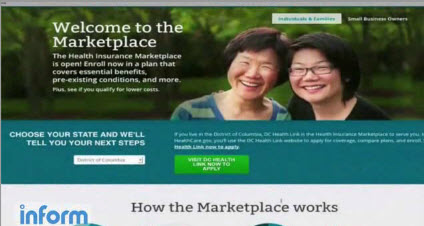 New polling data shows that just 37% of Americans have a positive view of Hillary Clinton, a number that seems to be steadily dropping week to week. But at least Hillary can take comfort in the fact that there are things polling worse than she is right now. For example: ObamaCare.
Just 30 percent of customers on Obamacare's exchanges were satisfied with their coverage, the health care research arm of the Deloitte consulting firm said. Only a quarter of Obamacare customers in the survey were confident that they could get care when they needed it, and just 16 percent felt "financially prepared" to handle future health care costs, Deloitte said.

"Those are not high numbers," said Paul Lambdin, a director for Deloitte's work on insurance exchanges and retail practices.

… Deloitte asked more than 3,800 adults, including 406 exchange enrollees, to rate their satisfaction from one to 10. More than half of exchange customers said they were in the "somewhat satisfied" range of four to seven.

Fourteen percent of exchange users said they were "not satisfied." By comparison, those who have coverage through Medicare, Medicaid or plans through their employers had dissatisfaction rates in the single digits.
As predicted by conservatives, the more ObamaCare customers learn about the president's health care law, the less they like about it. ObamaCare does not work, and the government has been fumbling the implementation of the program since day one.
Maybe Hillary and ObamaCare's numbers are so low because Americans are sick of government failures, and they aren't looking for more of the same. Hopefully this is a sign that voters will be willing to consider something new come Election Day. May we suggest liberty and small government…