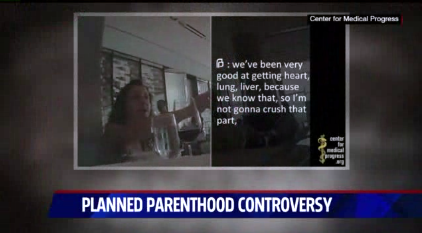 I have a new story up at Conservative Review this week, titled, "McConnell vs. The Pro-Life Movement." It discusses Mitch McConnell's reluctance to sacrifice political points for a chance to defund Planned Parenthood after several horrific undercover videos exposed the organization for the criminal and unethical (among other things) operation that it is- and the activists who aren't letting him off the hook so easily.
Senate Majority Leader Mitch McConnell's (R-KY) recent statement that defunding Planned Parenthood will have to wait is not deterring pro-life grassroots activists who are gearing up to end taxpayer funding of the nation's biggest abortion provider when Congress reconvenes in September.

McConnell is focused on keeping the government-funded program after September 30 and unwilling to risk the possibility of a government shutdown by adding a defunding Planned Parenthood provision to a funding agreement.

"We just don't have the votes to get the outcome that we'd like," McConnell said during an interview on WYMT-TV.

McConnell's surrender is not sitting well with grassroots activists that are outraged over the series of videos captured by Center of Medical Progress showing Planned Parenthood officials discussing the selling of body parts and tissue from aborted fetuses for medical research to fictitious buyers.

Reacting to McConnell's comment, Dr. Lee Vliet an outspoken pro-life and conservative activist told Conservative Review, "It makes me plan to intensify efforts to hold Congress accountable for Planned Parenthood's lawlessness with both efforts to defund and prosecute those responsible for violating statues governing abortion procedures and trafficking in human body parts."
Read the rest at Conservative Review here.