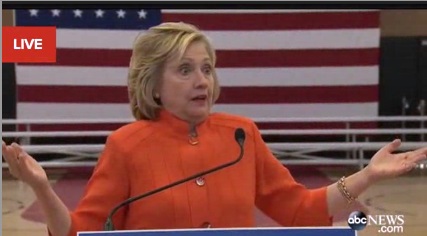 The slow drip of the Hillary Clinton email scandal continues, with more emails released this week containing sensitive information during Hillary's leadership of the State Department.
The State Department released thousands of pages of Hillary Clinton's emails Monday night that a department spokesman said contained 125 messages with material now considered classified.

State Department spokesman Mark Toner said the emails in question were "subsequently upgraded" to classified. He stressed that none of the emails was considered classified at the time. However, the sheer number of emails that have been redacted stands as the latest example of how much sensitive material was contained in Clinton's email transactions.

…Toner said Monday that the latest release means the department will have produced more than 25 percent of the full set of Clinton emails, exceeding a court-ordered target. This comes after the department last month fell short of the court-ordered goal.
Whether or not any other major discoveries are made, the political damage has already been done to the Hillary Clinton presidential campaign.
Americans associate her with being dishonest or a "liar" in recent polling, including the latest Quinnipiac poll which concluded that 61% of voters do not believe she is honest or trustworthy. The same poll also showed her unfavorables at 51%, an all-time high.
It's been reported that Hillary's lead in the Democratic primary field has dropped to 45%, with competitors like Bernie Sanders and Joe Biden (not even officially in the race yet) gaining ground.
Hillary keeps fumbling media interviews and her campaign has caused multiple unforced errors in their own handling of the story. How bad does it have to get before Democrat donors and opinion leaders abandon ship and rally around someone else?