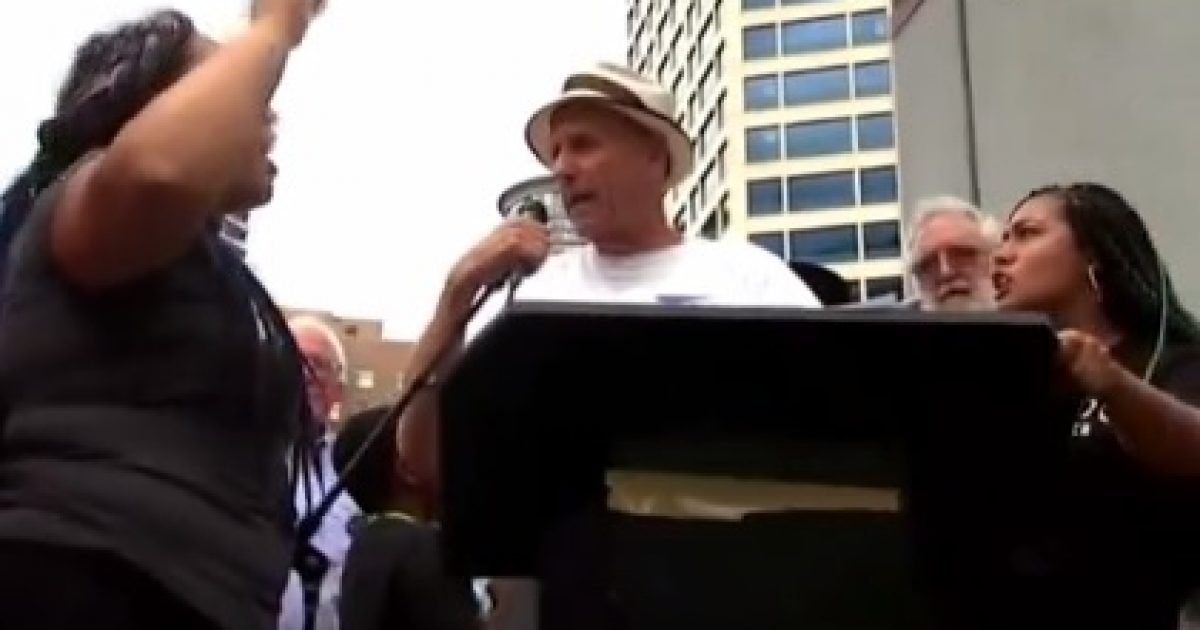 Last week, at least 50 Black Lives Matter protesters stormed Baltimore's city hall to disrupt a meeting about whether the interim police chief should be permanently hired.
This week, Black Lives Matter protesters struck again in LA, shouting down a community forum hosted by LA Mayor Eric Garcetti. The meeting, ironically enough, was to improve the relationship and the communication between the mayor and South LA's black community.
The Los Angeles Times reports:
The meeting at Holman United Methodist Church, attended by several hundred, was quickly overtaken by about 50 protesters from organizations including the national activist group Black Lives Matter, which was formed in the wake of high-profile police killings of young black men. As Garcetti spoke to a full house in the church's cavernous sanctuary hall, the demonstrators stood and turned their backs to him. Toward the end of the hourlong session Garcetti, ringed by police officers, struggled to reach his car as he was swarmed by a crowd of chanting activists — and once inside the vehicle, he was forced to wait amid blaring sirens until the crowd was dispersed by the LAPD.
Once again, the Black Lives Matter movement failed to advance any sort of constructive dialogue with members of government. Instead they continued to shout down and chase away the very people who can help advance positive justice reforms and improve relations between police and the black community.
And here's the strange part about this display of aggression: the Mayor was actually agreeing with the protesters during the meeting!
…For much of the meeting Monday, Garcetti seemed to have learned from that encounter, calmly delivering forceful, articulate responses to angry questions on topics ranging from the expansion of public transportation lines into South L.A. to his choice of police commissioners. At one point the mayor delivered a disarming response to one protester who complained about the deeply rooted causes of violence in black neighborhoods.

"Let me say, you're right, your analysis," Garcetti said. "I hate this back-and-forth we hear nationally, where people say black lives matter and politicians say all lives matter. Black lives matter in a unique way, and you and I see eye to eye on this."

He added: "If you just try to say all lives matter, you write people out of history. You write slavery out of history. You write oppression and violence out of history. You write racism and lynching out of history. So I get why it is important — just hear me out for one second — you're right."
Despite his comments, the meeting was still cut short after protesters stormed the stage and tried grabbing for the microphones. They followed the Mayor outside and swarmed his car too.
The Black Lives Matter protesters need to ask themselves this: what did they accomplish by chasing the Mayor out of the room? How are black lives safer after a night of storming a podium, chasing a community leader out of the room, and swarming his car? These protesters should be leading by example. They should be out in the community, helping their neighbors and setting a positive example for children. They should be inspiring rather than intimidating, and empowering rather than endangering.
"It is wise to direct your anger towards problems, not people; to focus your energies on answers, not excuses." – William Arthur Ward