News
Here's The Most Embarrassing Thing Found in Hillary's Latest Emails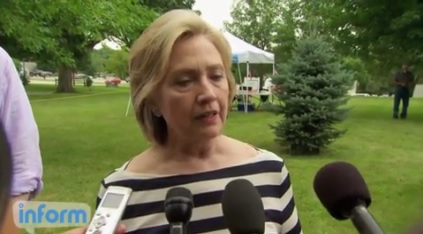 What is the most embarrassing thing found in Hillary Clinton's latest batch of emails? It might be the lengths to which her friends, colleagues, and admirers go to suck up to her. Politico has put together a list of the Top 15 "most glowing emails" from the latest 6,300 released.
The 'quintessential avenging angel'

Longtime friend Sara Ehrman received a gushing email about the secretary's work in the interest of Israel from a lawyer named Daniel Seidemann in May 2011.

"EVERYTHING I have heard – and I have heard from people who really know that your friend HRC did not merely come down on the side of the angels but was, herself the quintessential avenging angel. What she has done is the greatest act of friendship to Israel imaginable," he wrote in an email to Ehrman that made its way to Abedin.

"HRC would get a kick out of this fan mail," Ehrman wrote. Abedin forwarded on to Clinton.
Here's another gem:
Secretary Atlas
An email chain from Neera Tanden, a former Clinton 2008 campaign aide and president of the Center for American Progress, wished Clinton some time to relax during the summer of 2011.

"Hope you're very well and hope you get at least a brief break soon from carrying the world on your shoulders," Tanden wrote.
Read the rest of the love notes at Politico here.