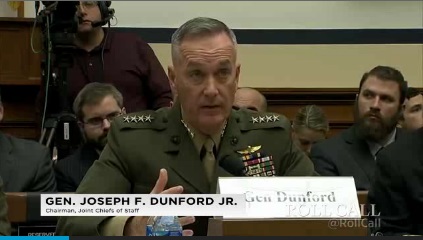 While President Obama told ABC News that ISIS was "contained" the day before the Paris attacks, the chairman of the Joint Chiefs of Staff is telling another story.
Gen. Joseph Dunford, chairman of the Joint Chiefs of Staff, gave a dim assessment when asked during a House Armed Services Committee hearing whether that's the case.

"We have not contained ISIL currently," Dunford told Rep. Randy Forbes, R-Va.

…At the Tuesday hearing, Defense Secretary Ash Carter also announced that the U.S. will send special ops forces to Syria while expanding its special ops presence in Iraq, to bolster the fight against ISIS.
The U.S. has yet to technically declare war on ISIS, though Congress would have to acknowledge ISIS as a sovereign state to do so.