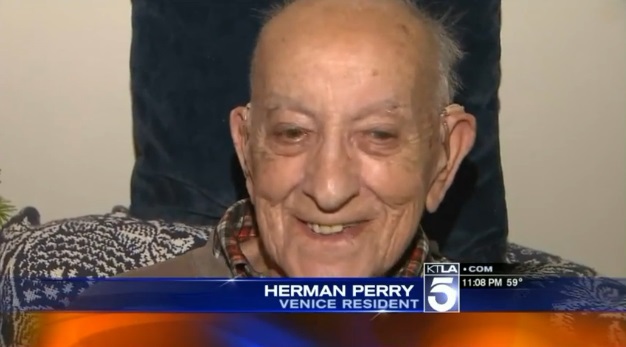 What started off as a general welfare check turned into a Christmas act of kindness that 94-year-old WWII veteran Herman Perry will cherish for the rest of his life.
"[Neighbor] Amy was aware he was recently released from a VA hospital due to an injury from a fall, so she was concerned when she hadn't heard from him as usual," Los Angeles Police Officer Natali Nunez told ABC. "She tried calling, knocking on the apartment and getting touch with his niece over in Massachusetts, but no one had heard from him, so she was really concerned."

As it turned out, Perry hadn't been wearing his hearing aid. "He told us that not too many people stop by anymore," Torres told KTLA. After making sure he was safe, the officers couldn't help wanting to do more for him. Once they completed their shift that night they stopped by a nearby Christmas tree stand that was closing and called out to the owner, asking to buy a tree.

When the stand's owner heard about their good deed, he not only gladly gave them one for free but threw in two sets of lights, mistletoe and candy as well.
The officers also gave Perry gifts and helped clean his home.
This story is a wonderful reminder to make time for those important in our lives, to help those who served our country, and to have compassion for those in need.
Merry Christmas, everybody!