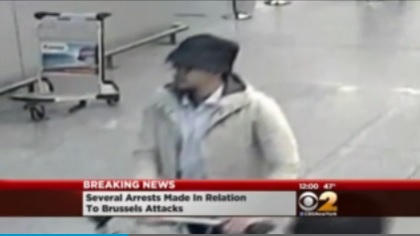 The manhunt for the third terrorist connected to the Brussels bombings is believed to be finally over. The "man in the white hat" is now the "man in the orange jumpsuit!"
Mohamed Abrini, the terror suspect believed to be the "man in the hat," an accomplice of the suicide attackers at Belgium's Zaventem Airport bombing last month and the Paris massacre in November, was finally arrested in a terror sweep Friday after spending months on the run, a French police official told The Associated Press. One other arrested suspect is a Swedish national named Osama K., a source tells Fox News. The Belgium Federal Prosecutor's office did not name any other suspects in custody.

Abrini reportedly was arrested in the Anderlecht district of Brussels. His DNA was believed to have been found in an apartment in the Schaarbeek neighborhood — the area where the airport suicide bombers were before the attack, Sky News reported. Abrini was the last suspect wanted in connection to the Paris attacks.
This radical Islamic terrorist should face the most unforgiving punishment that Belgium will allow. But beyond justice, Europe needs to tighten up its immigration policies to prevent future attacks.
It's not enough to chase fugitives after the fact. Europe needs to set an example for the world and start implementing common sense immigration policies that will truly address the underlying causes of terror.