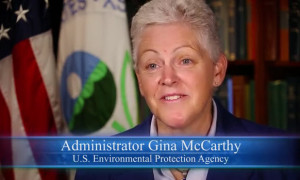 There are different kinds of government waste. Sometimes, the government wastes money on programs that shouldn't exist in the first place. Sometimes, the government wastes money on programs that don't work (or a combination of both).
In this case, the Environmental Protection Agency (EPA) is wasting about $3 million on contracts that aren't even active. Let me repeat: they are paying people millions of tax dollars to do nothing at all.
The Washington Free Beacon reports:
The Environmental Protection Agency has nearly $3 million tied up with contractors that have not done any work for the agency in a year and a half, according to a new audit. The agency's inspector general analyzed multiple unnecessary contracts that taxpayer dollars are still being obligated towards.

"We performed this audit to determine whether the U.S. Environmental Protection Agency (EPA) has adequate controls in place to identify and deobligate unneeded contract, purchase and miscellaneous obligations (such as training, settlement agreements, transit subsidies, and non-competitive sources—utilities); and to determine the potential dollar amount of obligations that could be deobligated," the audit said.

…"When the EPA does not deobligate unliquidated obligations timely, the funds cannot be used for other EPA environmental activities that would benefit human health and the environment," the inspector general said.The inspector general said the EPA "did not adequately review or monitor outstanding obligations" on contracts. It is against agency guidelines to not restructure contracts that have had no activity for six months.
This is not the first time the EPA has broken its agency guidelines for fiscal responsibility.
Audits over the past several years have found similar problems with the EPA's contract oversight. In November 2014, the inspector general identified unnecessary funds totaling $4.4 million, and another audit found over $200 million meant for local drinking water improvements sitting idle.
Is anybody seriously under the impression that the EPA has any interest in protecting the environment at this point? They don't even pretend to hide their protocol failures, progressive lobbying efforts, or lavish spending habits. The best thing the government can do for the environment is to clean house and shut this ineffective agency down.