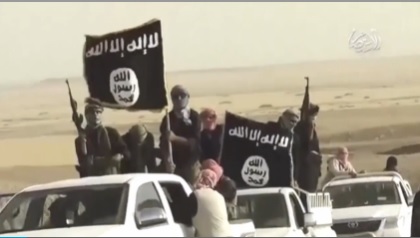 Nothing brings home the threat of radical Islamic terror like Daesh (aka. ISIS) taking a hit out on your own head.
ISIS on Wednesday put out a hit list targeting moderate Muslims — including top Hillary Clinton aide Huma Abedin. The list — in the latest edition of the terror group's magazine Dabiq– targets several other prominent Muslims including US Rep. Keith Ellison of Minnesota and British pols Sayeeda Warsi and Sajid Javid.

Abedin, the wife of former rep. Anthony Weiner, and other targets are branded "overt crusaders" and "politically active apostates," who "involve themselves in the politics and enforcing laws of the kufr [disbelievers]."
While the Clinton camp has not commented about the threat, Rep. Ellison made a strong statement in response:
"As millions of faithful Muslims flee Daesh's imposed nightmare they call a 'caliphate', Daesh takes the time to threaten Muslim public servants in the West, like myself and my friend Huma Abedin. Daesh is a collection of liars, murderers, torturers, and rapists. No Muslim I know recognizes what they preach as Al-Islam. The fact that I'm on Daesh's bad side means I am fighting for things like justice, tolerance, and a more inclusive world."

… Ellison uses the term Daesh instead of Islamic State, because they are "neither Islamic or a State." The congressman says Daesh translates to "bigot who imposes his view on others." In an MSNBC appearance last November, Ellison said: "Daesh says they said they will cut off the tongue of anybody that uses it. So I'm not going to call them what they want to be called, I'm going to call them what they are, which is terrorist, which do not represent any faith, including my own. They look to impose power by violent means and need to be stood up to."
Good for him. I would be interested in hearing Huma echo the sentiments of this brave Congressman. More prominent Democrats need to follow the lead of Rep. Ellison and call radical Islamic terror by its rightful name.