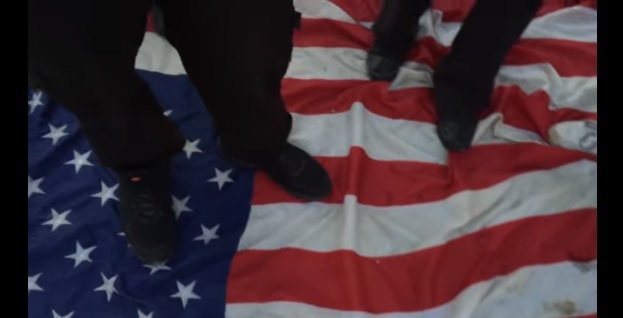 This is truly despicable. Black Lives Matter supporters gathered outside a Donald Trump rally in Wisconsin and were caught on video stomping and spitting on the American flag.
Desecrating the American flag may be protected under the First Amendment right to free speech. But just like these activists have the legal right to destroy the flag, I have a legal right to condemn them for it. The "activists" in this video aren't peaceful protesters, they are punks. And they should be ashamed of themselves.
Heads up- there is some real foul language in the text below and the video.
The Daily Caller reports (asterisk censorship ours):
In the videos — obtained by InfoWars — protesters stated that the "red, white and blue — this sh*t is the new swastika."

"F*ck this flag. F*ck this country," one man explained. "It's hypocritical."

The protesters — who claimed to support the Black Lives Matter movement despite not being officially affiliated with the organization — were drawing attention to the 2012 death of West Allis teenager Corey Stingley.
Protesters then took turns spitting on the American flag. The profanity and disrespect continue in the videos below, but you get the idea.
https://youtu.be/7sJnB2PAiwY
https://youtu.be/QkEWhtDEJDM
Shameful.