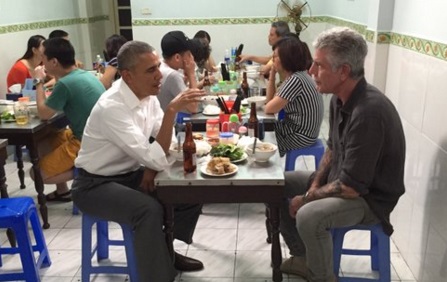 President Obama was quick to criticize Donald Trump as a legitimate presidential candidate, telling the press:
"This is not entertainment, this is not a reality show."
Less than 1 month later, Obama is filming -yet another- reality show. This time he stars in the CNN travel show, "Anthony Bourdain Parts Unknown."
"Bourdain will explore the purpose of the President's trip and his interest in the people, food and culture of Vietnam," according to CNN.

… Obama has appeared on multiple reality TV shows during his presidency including NBC's "Running Wild with Bear Grylls", where he flew on Air Force One to Alaska to highlight his concern for climate change. Other shows include "Between Two Ferns" with and "Comedians In Cars Getting Coffee" with Jerry Seinfeld.
There is no shortage of work to be done in Washington. Is this really the best use of the President's time?
Clearly, Obama is "phoning in" the rest of his term until he can make $21 million in speaker fees like Hillary Clinton.
Total cost of bun Cha dinner with the President: $6.00 . I picked up the check . #Hanoi

— Anthony Bourdain (@Bourdain) May 23, 2016
Low plastic stool, cheap but delicious noodles, cold Hanoi beer. pic.twitter.com/KgC3VIEPQr

— Anthony Bourdain (@Bourdain) May 23, 2016