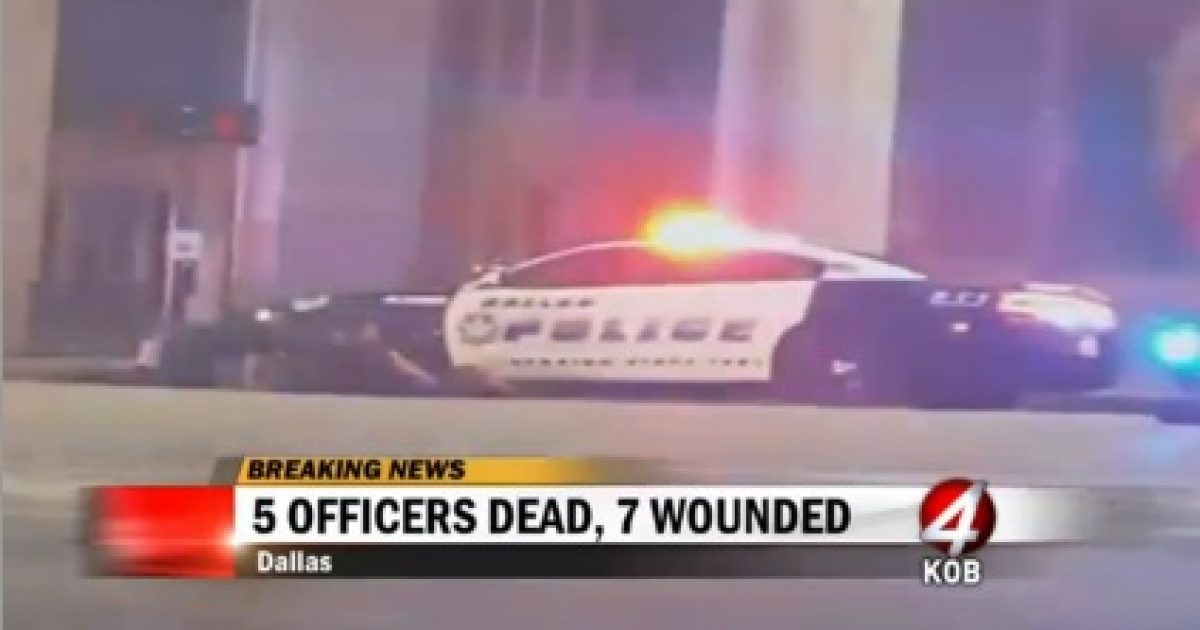 This has been a tragic month for loss of life. First, two black men are killed by white police officers in Baton Rouge and St. Paul. This morning, five police officers were killed and at least 6 wounded by a sniper (possibly multiple shooters) who wanted to "kill white people."
Ultimately, it's the people who pull the trigger who are to blame for these senseless killings. But in reality, there are many people responsible for creating the climate where racial animosity against our own neighbors and fellow Americans got this bad.
President Obama and the left's anti-police rhetoric and shameless abuse of racial identity politics has created a deadly climate for law enforcement that led directly to the murder of five police officers in Dallas during a Black Lives Matter protest on Thursday night. Dallas Police Chief David Brown confirmed Friday morning that the shooters targeted white officers. "The suspect said he was upset about Black Lives Matter," said Brown, who is black. "He said he was upset about the recent police shootings. The suspect said he was upset at white people. The suspect stated that he wanted to kill white people, especially white officers."

The attack on police came after two black men were killed by white police officers in Baton Rouge, Louisiana, and St. Paul, Minnesota. President Obama posted a screed on Facebook Thursday afternoon blaming police. "All Americans should recognize the anger, frustration, and grief that so many Americans are feeling," Obama wrote. "What's clear is that these fatal shootings are not isolated incidents. They are symptomatic of the broader challenges within our criminal justice system, the racial disparities that appear across the system year after year, and the resulting lack of trust that exists between law enforcement and too many of the communities they serve."

The president's vitriolic rhetoric came at the end of a long day of comments by leaders of the left, many of whom directly blamed police in St. Paul and Baton Rouge. While Obama and the left rush to blame any shooting perpetrated by a white person — or an Afghan Muslim if he happens to target homosexuals — on Republican and right-wing rhetoric, they are urging the country to do anything but blame the toxic anti-law enforcement environment they themselves created for the tragedy that occurred in Dallas.

… "Today, we live in a time when the white man will be picked off, and there's nothing he can do about it. His day is up, his time is up," warned King Noble, a radio host associated with the Black Lives Matter movement. "We will witness more executions and killing of white people and cops than we ever have before."
Whatever grievances we have as a society, they should be solved within the legal system. If the system is broken, we fix it. Together.
There is absolutely no excuse for the murder of an innocent person. No matter what the circumstances or the message behind it.
We did not get here overnight. This anger and violence is the product of decades of liberal race baiters like Al Sharpton and Jesse Jackson going into poor and minority neighborhoods and victimizing people. There are countless examples of President Obama and his propaganda henchmen playing the race card for their own political gain. They should be ashamed of themselves.