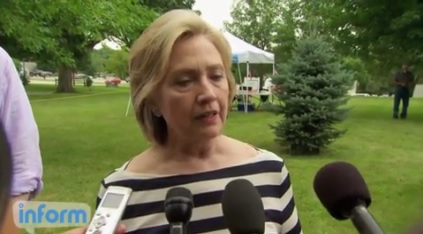 According to FBI Director James Comey, up to 10 people without security clearance had access to Hillary Clinton's classified emails.
She knowingly gave them access, yet in the eyes of the FBI this is somehow not a crime.
Seriously.
The Washington Free Beacon reports:
The FBI director said between two and 10 individuals without clearances had access to the server, including Clinton's attorneys who sorted her emails before they were turned over to the State Department. Comey was testifying before the House Government Reform and Oversight Committee regarding his announcement on Tuesday that he would not recommend criminal charges against Hillary Clinton or her aides related to the mishandling of classified information on the private email server.

Although Comey said Clinton was "extremely careless" in handling classified materials, he said no "reasonable prosecutor" would proceed with the case because there was not evidence of criminal intent. At one point during the hearing, the FBI director acknowledged that Clinton's attorneys did not hold security clearances when the former secretary of state asked them to sort through her emails to determine which messages to turn over to the State Department and which ones to delete.
Hillary Clinton deliberately compromised classified information by handing it over to individuals who don't have security clearance. Isn't that the definition of a crime?
Comey then testified that Hillary did not lie to the FBI, but refused to answer whether or not he believes Hillary lied to the American public. What a coward.