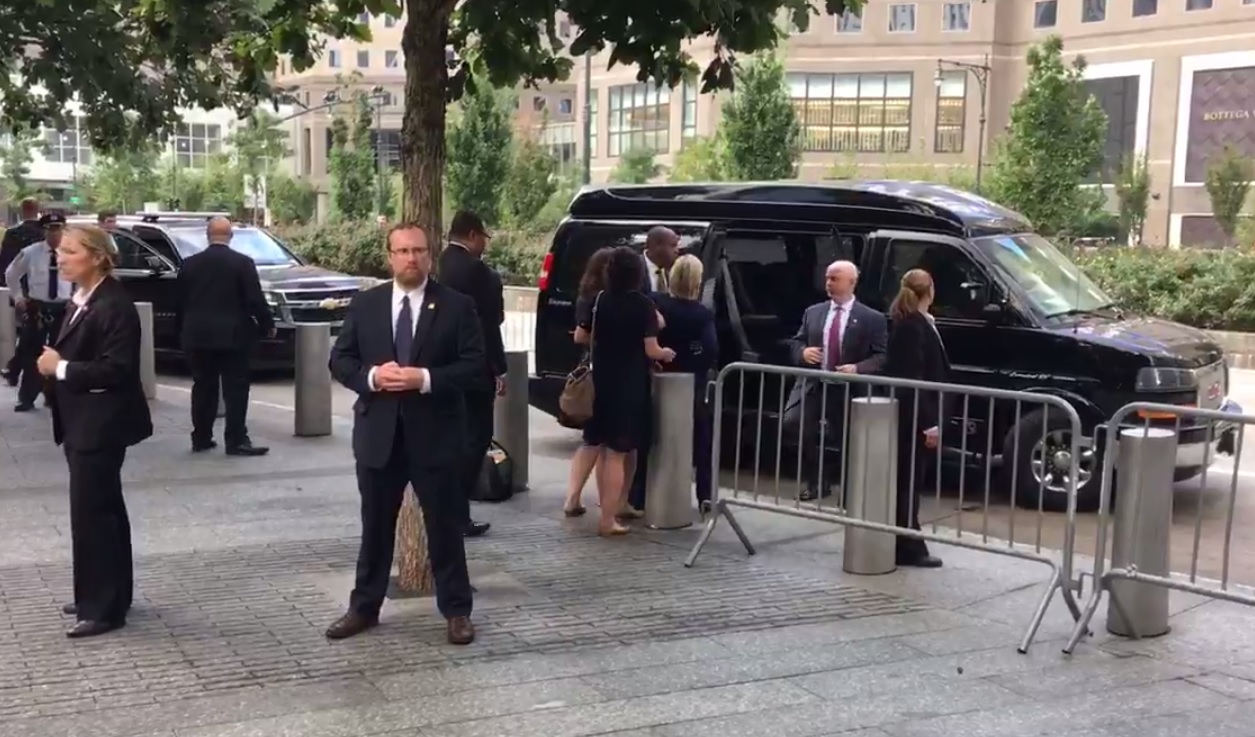 Presidential candidate Hillary Clinton suffered a "medical episode" while visiting with families of the fallen at the 9/11 Memorial in New York this morning. While waiting at her van, eyewitnesses said her knees appeared to buckle and she lost a shoe, as Secret Service rapidly surrounded her and assisted her into her motorcade.
As reported by Fox News,
The Democratic presidential nominee appeared to faint on her way into her van and had to be helped by her security, the source said. She was "clearly having some type of medical episode."

After more than an hour of radio silence, Clinton's campaign issued a statement saying the former Secretary of State "felt overheated."

"Secretary Clinton attended the September 11th Commemoration Ceremony for an hour and thirty minutes this morning to pay her respects and greet some of the families of the fallen," Clinton spokesman Nick Merrill said. "During the ceremony, she felt overheated so departed to go to her daughter's apartment, and is feeling much better."

A senior aide told Fox News "she is fine."

But a witness told Fox News that Clinton stumbled off the curb, her "knees buckled" and she lost a shoe as she was helped into a van during her "unexpected early departure."

An unverified video of the episode appeared to show Clinton collapsing as she was helped into the van.

The New Jersey resident who took the video, Zdenek Gazda, told Foxnews.com he had been a fireman in the Czech Republic and came to the 9/11 ceremony to pay his respects.

"Everything was fine, everything was good before," said Gazda, who snapped several shots of Clinton before taking the video. "I take a lot of pictures of her. She looked very nice and everything, and I don't know what happened to her."
Here is the video in question:
Hillary Clinton 9/11 NYC pic.twitter.com/q9YnsjTxss

— Zdenek Gazda (@zgazda66) September 11, 2016
From this angle, it appears Mrs. Clinton loses her balance before clearing stumbling off the curb and having to be assisted into the van. As Fox News reported, Hillary's campaign is claiming this was nothing more than an episode of heat stroke.
What do you think? Is it suspicious that others aren't also experiencing this "heat stroke" at the 9/11 Memorial today? Or is Hillary's health something we really should be worried about? Let us know in the comments below!