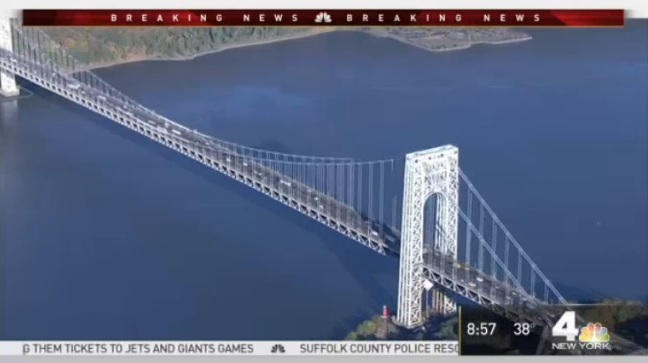 Protesters chained themselves to the George Washington bridge this morning, causing delays up to 90 minutes for NJ commuters.
Because nothing wins hearts and minds like causing a HUGE traffic jam for your neighbors….
The inbound upper level of the George Washington Bridge was closed by an immigrant rights protest on Wednesday morning, snarling traffic on one of the region's most important crossings at the height of rush hour. Delays at the bridge for traffic heading into New York from New Jersey were up to nearly 90 minutes; traffic cameras showed bumper-to-bumper traffic barely inching along.

The protesters apparently chained themselves across the roadway to block traffic, unfurling large banners in an attempt to spread their message. One banner appeared to read "Resist, Organized, Act Up!" Drivers were clashing with the protesters in an effort to get the bridge open, according to witnesses. Police quickly detained the small group and traffic began moving again about 15 minutes. The Port Authority said 10 people who were blocking the eastbound lanes were arrested. No injuries were reported. The agency said it is investigating.
George Washington Bridge Closed #somosvisible #wearevisible pic.twitter.com/nn8kndTDP1

— Occupy Theory (@occupytheory) October 26, 2016
"We are one with Mother Earth and with all oppressed people in the shadows"

GW BRIDGE SHUT DOWN IN NYC pic.twitter.com/3D9c5pH9OQ

— Millions March NYC (@MillionsMarch) October 26, 2016
The group apparently works to improve the life conditions for workers in the laundry and food service industries. According to their Facebook page:
"Our work aims to combat abuses such as landlord negligence, wage theft, and hazardous and exploitative working conditions, all of which are endemic in low-income communities in New York City and New Jersey."
Ironically, they chose to sabotage the quality of life for commuters to make a point about improving the quality of life for themselves. Or something.