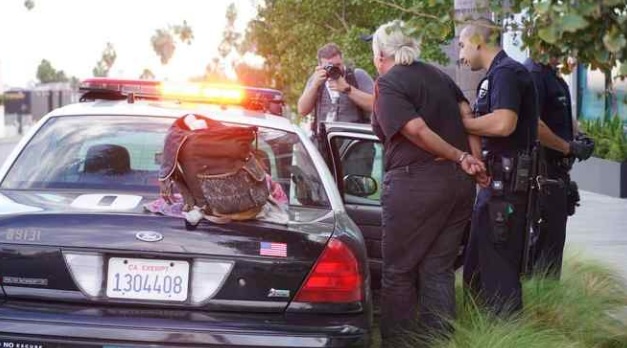 About 20 protesters assembled outside the CNN building in Hollywood to raise awareness of the network's bias against Donald Trump.
As pedestrians passed by, multiple people spit in the faces of the protesters.
One person was taken into custody Monday evening during a pro-Donald Trump rally outside the CNN building in Hollywood. But it wasn't a Trump supporter who was taken away in handcuffs by Los Angeles police, it was a woman who allegedly spat on one of the demonstrators, then dashed into a nearby coffee shop.

"The woman that they're arresting right now spit on me. I had another gentleman spit in my face," said Margaret Schofield as she carried a "Chino for Trump" sign. The female suspect was being held on a battery count, a spokesman with the Los Angeles Police Department said.

… While Caruso stood to the west of the CNN building, she said she was confronted by someone who obviously isn't a Trump supporter. "Somebody had a temper tantrum, abused my Women for Trump sign," said Caruso as she held up a homemade poster that had been torn apart.
Don't expect the mainstream media to cover the story.  I am sure CNN (aka. the Clinton News Network) will turn the other way, like they always do for the misdeeds of the Democratic Party.
Rest assured, if the roles were reversed and it was a Trump supporter who spit on a Clinton voter, the mainstream media would be all over it!