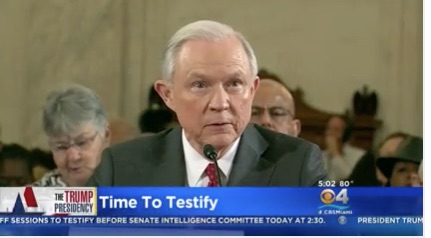 The drama continues in Washington, D.C. today as Attorney General Jeff Sessions is set to testify before the Senate Intelligence Committee.
Sessions will shed light on his contacts with the Russian ambassador.
The attorney general will also discuss his interactions with former FBI head James Comey and Sessions' testimony is reportedly going to challenge elements of Comey's testimony.
AXIOS reports:
3. Sessions will dispute James Comey's characterization of a conversation the two men had in February.

This is a big deal, as Comey gave his account under oath.

The former FBI director said under oath that after his Feb. 14 conversation with Trump, he told Sessions he didn't want to have any more direct communication with the President. Comey then said that Sessions remained silent, perhaps shrugging his shoulders and nonverbally indicating that he couldn't be of help.

Sessions is expected to counter this, saying he responded to Comey by telling him the FBI and DOJ needed to be aware of official protocol regarding communications with the White House. The DOJ released a statement to that effect a few hours after Comey's testimony.

Sessions is expected to make the same statement under oath.
Comey is once again in the middle of conflicting statements.