News
NFL Gone Rogue: League Backs Criminal Justice Reform Bill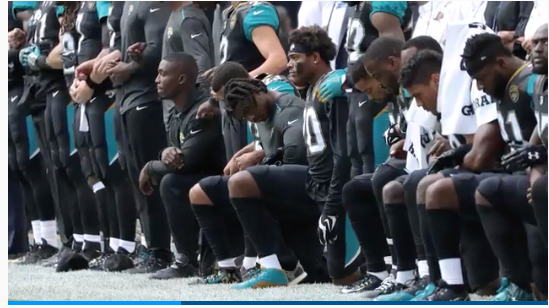 The NFL is now engaged in political advocacy.
According to the NFL spokesperson, the league threw its support behind a bipartisan bill addressing criminal justice reform.
The Washington Post reports:
The NFL's spokesman said on Monday that the league has decided to endorse a bipartisan bill to reduce mandatory minimum sentences for low-level drug offenders, eliminate "three-strike" provisions that require life sentences and give judges more latitude to reduce sentences for certain low-level crimes.

"We felt that this was an issue over the last months, as we have continued to work with our players on issues of equality and on issues of criminal justice reform, that was surfaced for us, and we thought it was appropriate to lend our support to it," NFL spokesman Joe Lockhart said Monday during a conference call with reporters.
It appears the NFL is trying to appease social justice issues advocated by its players as mounting evidence shows the on field player protests of the National Anthem is hurting the league.
Monday Night Football ratings continue to decline as reported by The Epoch Times:
In a season plagued with controversy over the U.S. national anthem, TV ratings for the Oct. 16 edition of "Monday Night Football," which featured the Tennessee Titans in a win over the Indianapolis Colts continued to fall.

According to Deadline.com, citing Nielsen ratings, the ESPN game hit a season low "with a 6.1 in metered-market results."

The rating is down 13 percent from the "the early numbers of the much tighter October 9th matchup between the Minnesota Vikings and Chicago Bears," Deadline.com said.
In addition, CBS stock was projected to drop as a result of falling ratings.
CBS News reports:
Declining NFL television ratings will lower CBS earnings, according to Credit Suisse.

The firm cut its third-quarter EPS estimates by 5 percent, citing CBS' softer Sunday NFL ratings. The media company reports on Nov. 2.

"We expect third-quarter network advertising to decline 3 percent (previously +1 percent), driven by soft ratings for both the summer schedule and for the start of the NFL season," wrote Credit Suisse analyst Omar Sheikh. "With only one of the three content licensing deals we expected for the second half announced in third quarter, we also expect content licensing revenue growth to be skewed to the fourth quarter."
Appeasing players on political matters is not a way to solve the problems at the NFL.
The NFL should concern itself with the game, not political advocacy.