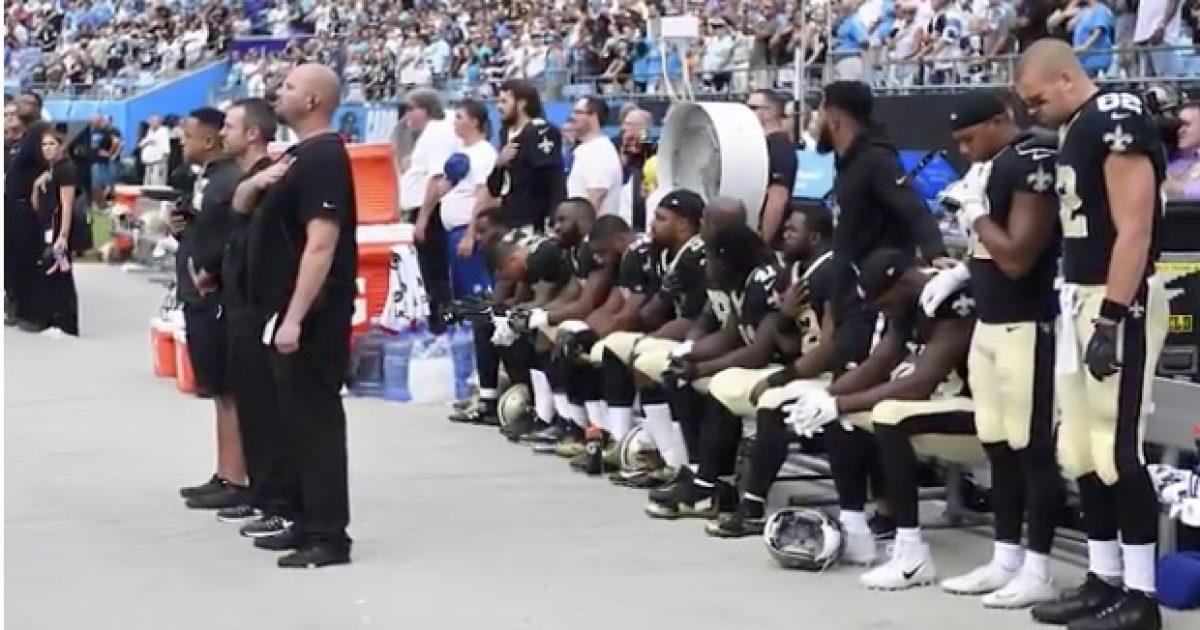 The NFL nightmare continues.
Falling ratings and the backlash from sponsors and fans over player protests during the National Anthem continue.
Now the league is feeling the heat from a disabled veteran.
Retired Navy Cmdr. John Wells, a disabled veteran, rejected an offer to be honored by the New Orleans Saints at a game because players continue to protest during the National Anthem.
The New York Post reports:
The New Orleans Saints are firing back at a retired Navy commander who declined to be honored at their game Sunday because of players protesting during the national anthem, calling his decision "unfortunate and disappointing."

Retired Navy Cmdr. John Wells, executive director of the Louisiana-based Military Veterans Advocacy, was selected by the Saints to receive its Peoples Health Champion Award for highlighting the "health and well-being of our military, veterans and their families," according to the team's statement Thursday.

But Wells told the organization Wednesday not to expect him at the game, since he's unable "in good conscience" to enter an NFL stadium where some players continue to "disrespect" the American flag by kneeling or sitting before or during the national anthem.
Watch the video here:
The mounting evidence points to a downtrend in viewership and the player protests are not helping.
Bloomberg reports:
TV networks are running out of excuses for the dwindling popularity of the National Football League.

They blamed the election for ratings declines last year, and hurricanes for a soft week one in September. Protests during the national anthem, and President Donald Trump's criticism of the league, have faded from the headlines.

Advertisers are starting to believe a different explanation: the viewers aren't coming back. Audiences are down an average 7 percent from a year ago through the first eight weeks of the season, excluding last Monday. That's on top of a decrease of about 8 percent last season that spurred numerous changes in the broadcasts, from shorter commercials to better matchups earlier in the year.
The competition for public attention is fierce and the last thing the NFL needs is for players to insult its patriotic fans.