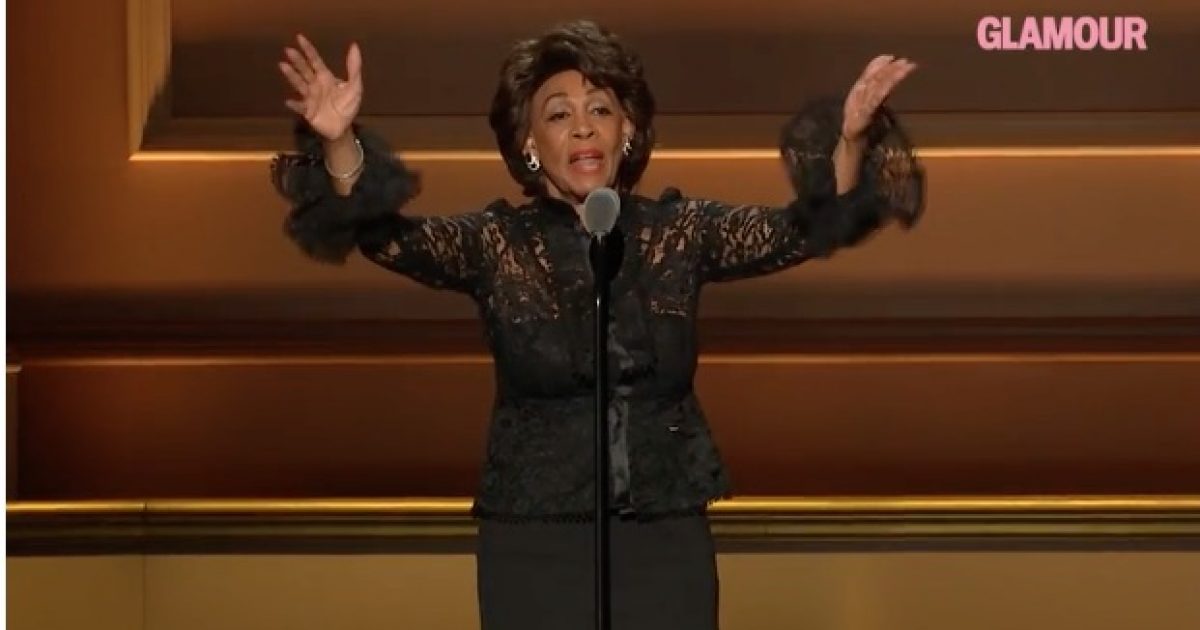 First, it was Colin Kaepernick being honored as Citizen of the Year by GQ magazine.
Kaepernick's civil rights activism was the winning ticket for the honor.
Now, Representative Maxine Waters (D-CA) was honored by Glamor as one of their Women of the Year.
Waters is getting a lot of attention because she is a leading critic of President Trump.
Waters wasted no time in slamming President Trump and calling for his impeachment which was enthusiastically supported by the attendees.
CBS News reports:
There were movie stars and supermodels, TV hosts and pop stars.

But perhaps the most rapturous ovation at Glamour magazine's annual Women of the Year awards went to 79-year-old Democratic U.S. Rep. Maxine Waters of California, who delighted the crowd — including hundreds of cheering young girls — with a rousing speech that ended on a very political note. "Impeach him," she exhorted the audience. "Impeach 45! Impeach 45!"
Glamour reports:
One of the highlights of this year's Glamour Women of the Year Awards (which took place Monday, November 13) was honoree Maxine Waters' speech, where she repeatedly called for the impeachment of President Donald Trump. Yup.

"You recognize when a leader is irresponsible. You recognize when a leader is dishonorable and disrespectful. You recognize when a leader is dangerous," the California congresswoman said. "Even if that leader is the President of the United States of America."

With this, the crowd that filled Brooklyn's Kings Theatre erupted into applause, and their excitement only grew when Waters started chanting, "Impeach 45! Impeach 45!" It quickly turned into one of the evening's mantras, and by the end of her speech, nearly everyone in the crowd was yelling it too.
Glamour describes the award:
For 27 years, Glamour's Women of the Year Awards has honored game changers, rule breakers, and trailblazers. This year proved to be one of our biggest ever. Follow along with our awards live blog to relive every inspiring moment.
The media is giving tribute to left-wing activists and politicians.
It appears the key to fame is being known for starting NFL protests during the National Anthem and to be aggressively anti-Trump.