News
Boeing To Spend $300 Million On Charities And Workers Due To Tax Reform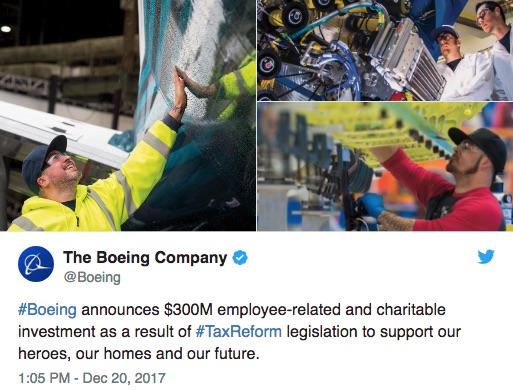 Which Candidate Do You Support in the Republican Primaries?
Companies are responding to the passage of the Republican tax reform bill.
From increased wages and bonuses for employees to charitable giving, companies are planning to take advantage of the 14 percent drop in the corporate tax rate, from 35 percent to 21 percent, beginning January 1, 2018.
The Boeing Company, the largest aerospace company in America, announced plans to invest $300 million in their employees, charities and facilities.
The Daily Caller reports:
Several corporations applauding the Republican tax reform plan announced investment projects and employee bonuses to cheer the coming lower corporate tax rates.

Aerospace company and defense contractor Boeing announced Wednesday that it would invest $300 million in charitable projects, employee training and education, and facilities improvements for Boeing locations.

"On behalf of all of our stakeholders, we applaud and thank Congress and the administration for their leadership in seizing this opportunity to unleash economic energy in the United States," Dennis Muilenburg, Boeing chairman and CEO, said in the statement. "It's the single-most important thing we can do to drive innovation, support quality jobs and accelerate capital investment in our country."
The Boeing Company Tweeted: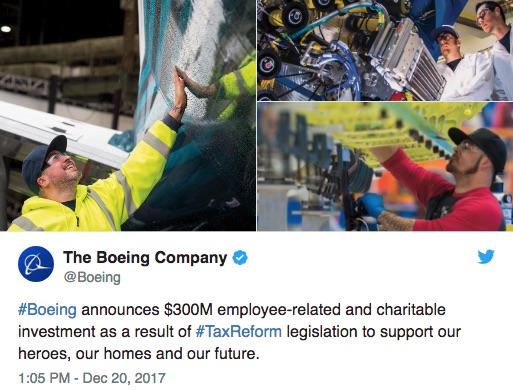 Other companies including AT&T also announced plans to invest in projects in America and to give their employees bonuses.
Telecom giant AT&T also found a unique way to celebrate the passage of the Tax Cuts and Jobs Act, which heads to the White House for President Donald Trump's signature. AT&T announced Wednesday that it will give more than 200,000 employees an extra $1,000 bonus, and invest $1 billion in U.S. projects in 2018. The employee bonuses will be sent out over the holidays if Trump signs the bill into law before Christmas.