News
Democrats Very Optimistic For Sweeping 2018 Election After Moore Defeat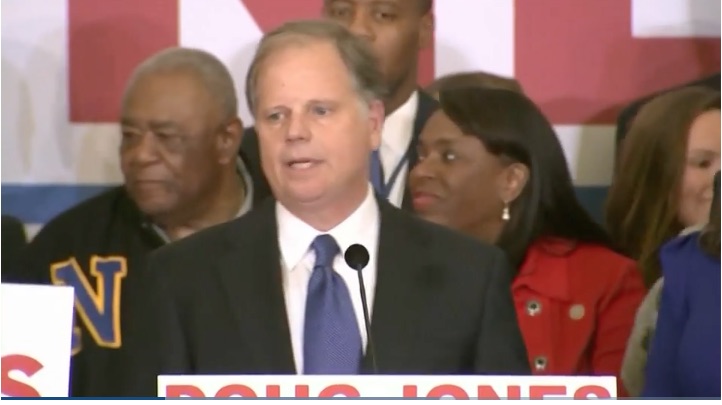 Following the defeat of Alabama Republican Senate candidate Roy Moore in a conservative state, Democrats are very optimistic for sweeping victories in the 2018 mid-term elections.
Democrats are viewing the victory in Alabama as a sign of momentum for the future.
McClatchy reports:
Six months ago, Democrats were cautious in their optimism. They talked a lot about a strong 2018 that might chip away at the GOP's majority in Congress.

But after winning a pair of governor's races, more than a dozen state legislative contests, and a shock Senate seat in a deep red state over the last month, they are no longer holding back.

"Republicans are going to need to appreciate this wasn't all about Roy Moore and sexual assault," said JB Poersch, president of the Democratic-aligned Senate Majority PAC. "This is a bigger issue."
Democrats are most excited over the high turnout in the Alabama Senate race.
The Chicago Tribune reports:
Alabama's surprising election outcome upended the expectations in both parties for next year's midterm campaigns, with Democrats emboldened by signs of a resurgent voter base and Republicans sensing new vulnerabilities.

The victory Tuesday by Democrat Doug Jones to represent that heavily conservative state in the Senate was the latest example in a string of elections this year that Democratic leaders think represent a growing backlash against President Donald Trump — and a potential building wave for 2018.

"People know that this is a political earthquake," said Sen. Chris Van Hollen, D-Md., who is running the Democrats' 2018 Senate campaign efforts. "And what this does is provide a real shot in the arm for Democrats across the country."
Democrats are exaggerating the meaning of Roy Moore's loss.
Moore lost the election because of sexual misconduct allegations, not policy.