News
Under Obama Admin Over 50K DACA Amnesty Applicants Have Criminal Background
Having a criminal background didn't stop some illegal aliens in America from gaming the system.
The Department of Homeland Security reports over 50,000 Deferred Action for Childhood Arrivals (DACA) recipients obtained "work-permits and Social Security Numbers" despite their criminal history.
Breitbart reports:
More than 50,000 illegals got DACA work-permits and Social Security Numbers even though they had an arrest record, says a new report by the Department of Homeland Security.

The DHS factsheet provides some criminal-history details about the 888,765 illegals who asked for work-permits from former President Barack Obama. Those details were hidden by Obama's deputies, who also hid information about the DACA illegals' education credentials and work histories.
The report also reveals "17,079 DACA recipients have been arrested more than two times" (see chart).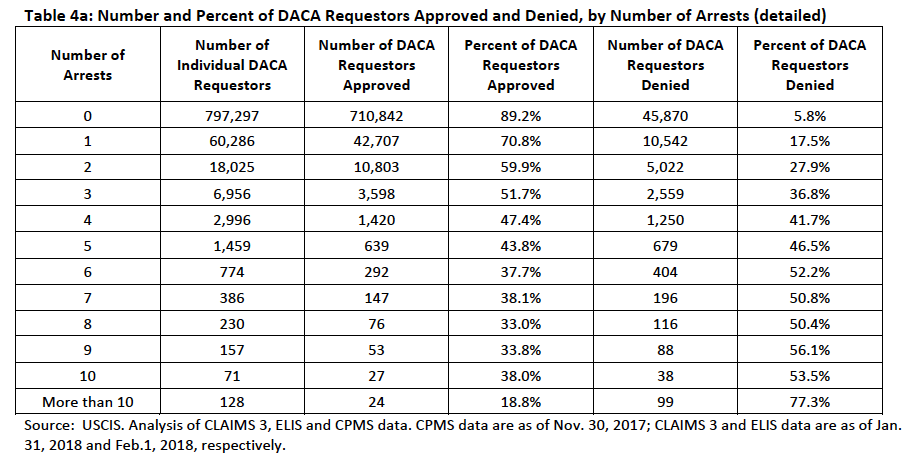 Criminal illegal aliens pose a significant threat to law-abiding citizens and the criminal data is deeply troubling.
DACA-approved people have been arrested for ten murders, 31 rapes, 95 kidnappings, 187 robberies, 425 hit-and-runs, 2,007 assaults, 4,611 drug offenses, 6,629 thefts, plus many crimes related to their illegal status — 11,861 immigration crimes and 20,926 non-DUI driving-related offenses, such as a failure to signal a turn.
Given the startling facts from the Department of Homeland Security about criminal illegal aliens, unfortunately, the left-wing media and Democrats will ignore these sobering facts.
With the midterm elections fast approaching, Democrats will continue to push immigration as a hot-button issue.