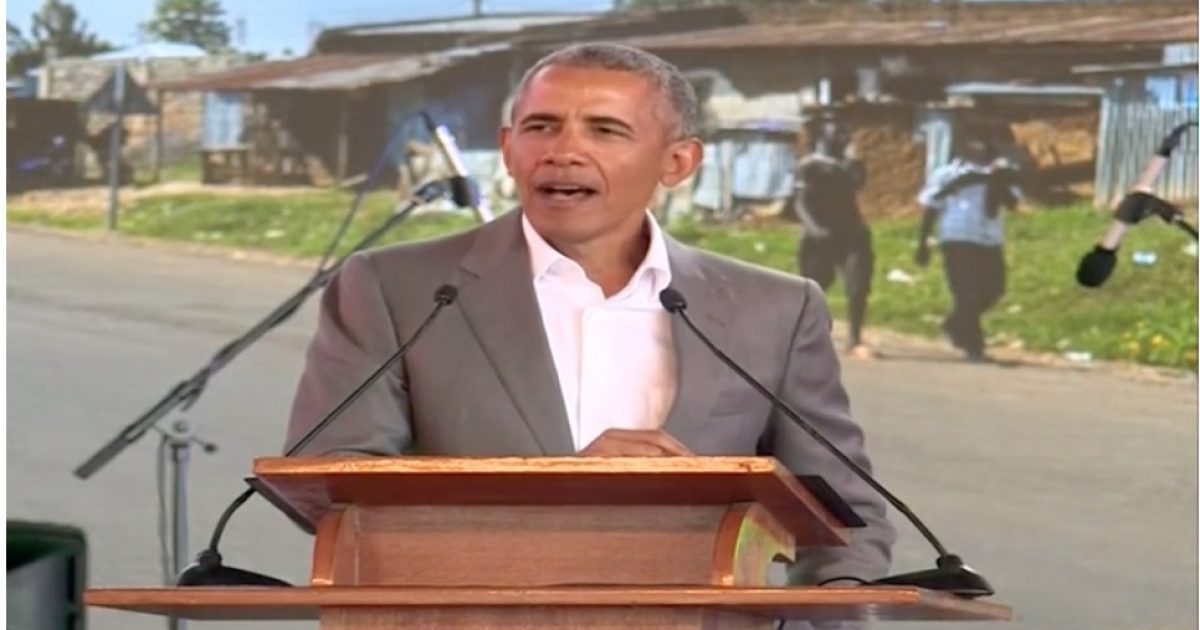 Former President Barack Obama criticized what he called "strongman politics" and nationalism seemingly targeting President Trump in a speech in South Africa.
Obama spoke on the 100th anniversary of the birth of Nelson Mandela where he delivered the Nelson Mandela Annual Lecture in Johannesburg.
Politico reports:
He made no direct mention of Trump but addressed head-on the type of politics that the current president has come to embody.

"A politics of fear and resentment and retrenchment began to appear and that kind of politics is now on the move," Obama said Tuesday. He pointed to deteriorating democracies around the globe and the ascendance of "strongman politics" as well as assaults on freedom of the press and the use of social media to promote "hatred and paranoia and propaganda and conspiracy theories."
Obama also promoted his view of globalization and expressed concerns of nationalism and xenophobia.
Times Live reported:
"Countries that rely on nationalism' xenophobia and racial superiority – those countries find themselves consumed by civil war or external war. Technology cannot be put back in a bottle. We are stuck with the fact that we live closer together and populations are moving'" he said.

"The only way to address climate change' mass migration' pandemic disease is to develop more international cooperation' not less."
CNN summarized Obama's speech targeted President Trump.
Obama has made an art of criticizing the current President's values without explicitly naming Trump, peppering his speech Tuesday with warnings against some of Trump's key policies, including protectionism, climate change denial and closed borders.

"The politics of fear and resentment and retrenchment began to appear. And that kind of politics is now on the move. It's on the move at a pace that would have seemed unimaginable just a few years ago," he told the crowd of around 15,000 people in Johannesburg.

"I am not being alarmist, I'm simply stating the facts. Look around — strongman politics are ascendant, suddenly, whereby elections and some pretense of democracy are maintained, the form of it, where those in powers seek to undermine every institution or norm that gives democracy meaning."
Obama also promoted his trip and his summer reading list:
This week, I'm traveling to Africa for the first time since I left office – a continent of wonderful diversity, thriving culture, and remarkable stories. As I prepare for this trip, I wanted to share a list of books that I'd recommend for summer reading: https://t.co/W4Jc0N23iy

— Barack Obama (@BarackObama) July 13, 2018
So far, Obama is keeping a low political profile mostly behind the scenes and his speeches do not directly challenge President Trump.
As the midterm elections approach, Obama will openly criticize President Trump by name in an effort to drive Democrats to the polls.