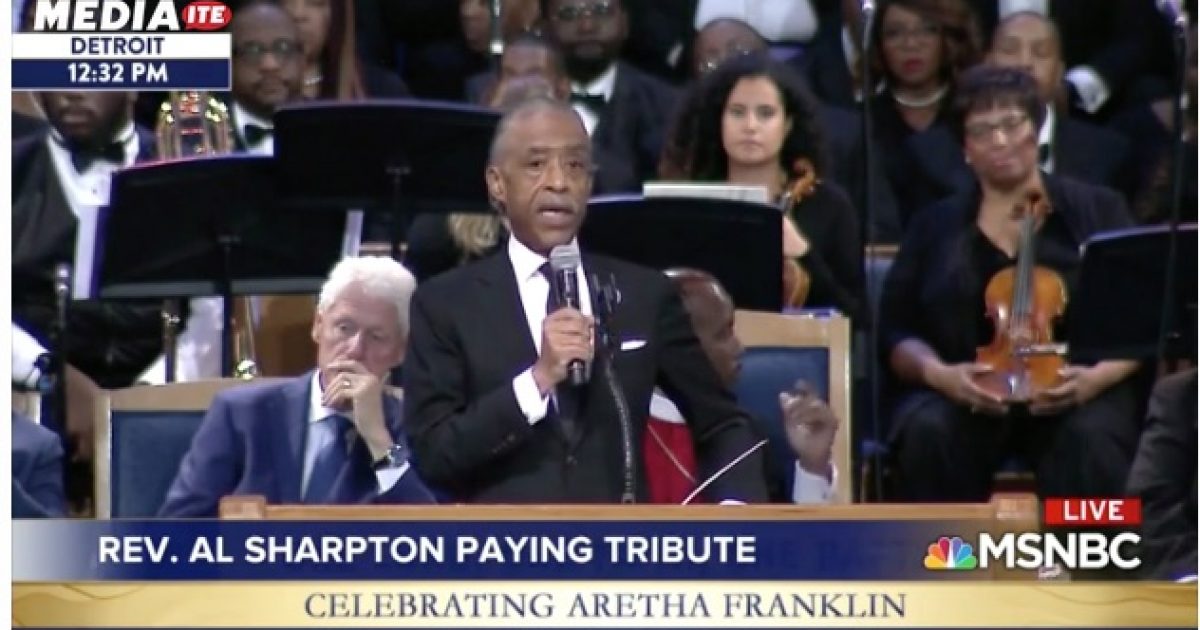 Al Sharpton blasted President Trump at Aretha Franklin's funeral.
During his eulogy, Sharpton referred to the mistake he made on his TV show when he misspelled the word "respect" when discussing Aretha Franklin but then seized on the word to blast President Trump.
Mediaite reports:
"You know, the other Sunday on my show I misspelled respect. And a lot of y'all corrected me. Now I want y'all to help me correct President Trump to teach him what it means."
Timothy Burke caught Sharpton's comment in a Tweet :
Damn, Rev. pic.twitter.com/d1GnWtjS3L

— Timothy Burke (@bubbaprog) August 31, 2018
Sharpton didn't stop there.
He also addressed a comment made by President Trump about Aretha Franklin after her death.
President Trump called her "terrific," but his comment that the singer worked for him set the Left over the edge.
The Washington Post reports:
Trump reacted to news of the singer's death during a Cabinet meeting the same day, offering his condolences to her family.

"She worked for me on numerous occasions," he said. He also celebrated the "extraordinary legacy" of the soul, pop and R&B virtuoso, calling her "terrific."

Trump's comments proved, as ever, controversial, and not simply because her appearances at his properties hardly amounted to a sustained employment relationship. More pointedly, even if she had worked for him, some asked, what was the relevance of that fact on the day of her death?
Again, Sharpton twisted words for his attack.
The Daily Beast reports:
Rev. Al Sharpton on Friday responded to President Donald Trump's assertion that Aretha Franklin had worked for him "on numerous occasions." "Trump said she used to work for me. No, she performed for you. She worked for us," Sharpton said at Franklin's funeral. "Aretha took orders from no one but God,"
Sharpton is a self-serving activist and will exploit any situation to advance himself and his agenda.
President Trump is fundamentally a businessman and saying someone worked for him is a compliment but as we know, the Left attacks everything he says.
Watch more of Sharpton's eulogy here.