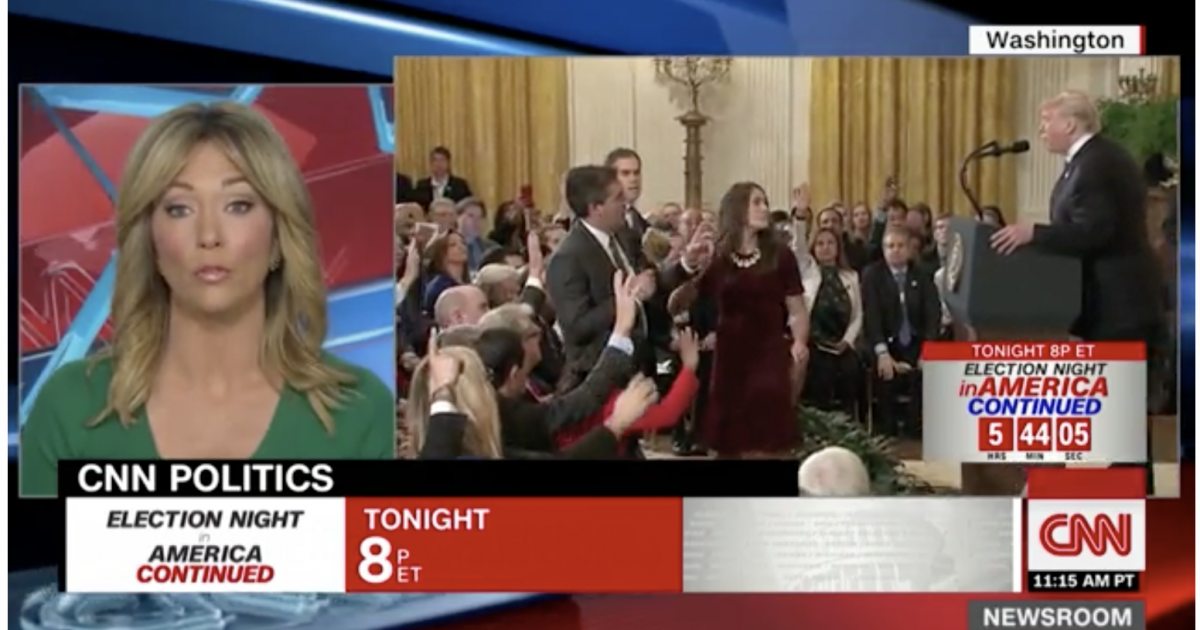 CNN filed a lawsuit against the White House over denying reporter Jim Acosta access to the press briefings.
The White House pulled Acosta's media pass following the reporter's overly aggressive behavior at a press briefing following the midterm elections.
The CNN lawsuit is based on a violation of the First and Fifth Amendments.
The Daily Mail reports:
The networks' suit, filed by a team that includes former George W. Bush solicitor general Ted Olson, demands the immediate return of Acosta's credentials. The White House fired back at CNN, one of the president's favorite targets, for 'grandstanding.'

Acosta lost access to the building last Wednesday night, hours after refusing to give up a microphone when the president said he had answered enough of his questions.
And…
The suit 'demands the return of the White House credentials of CNN's Chief White House correspondent, Jim Acosta. The wrongful revocation of these credentials violates CNN and Acosta's First Amendment rights of freedom of the press, and their Fifth Amendment rights to due process,' according to a CNN statement.
CNN also reported on its lawsuit.
The lawsuit is a response to the White House's suspension of Acosta's press pass, known as a Secret Service "hard pass," last week. The suit alleges that Acosta and CNN's First and Fifth Amendment rights are being violated by the ban.

The suit was filed in U.S. District Court in Washington, D.C. on Tuesday morning. It was docketed and assigned to Judge Timothy J. Kelly, a Trump appointee. CNN is seeking a preliminary hearing as soon as possible.

Both CNN and Acosta are plaintiffs in the lawsuit. There are six defendants: Trump, chief of staff John Kelly, press secretary Sarah Sanders, deputy chief of staff for communications Bill Shine, Secret Service director Randolph Alles, and the Secret Service officer who took Acosta's hard pass away last Wednesday.
White House Press Secretary Sarah Huckabee Sanders defended the decision to ban Acosta from the White House:
We stand by our decision to revoke this individual's hard pass. We will not tolerate the inappropriate behavior clearly documented in this video. pic.twitter.com/T8X1Ng912y

— Stephanie Grisham (@PressSec) November 8, 2018
CNN's lawsuit is another example of its anti-Trump agenda. Acosta's behavior was completely out of line and he doesn't deserve to be in the White House press briefings.