News
Copycat Attacks on NY Police Officers by Mobs with Buckets of Water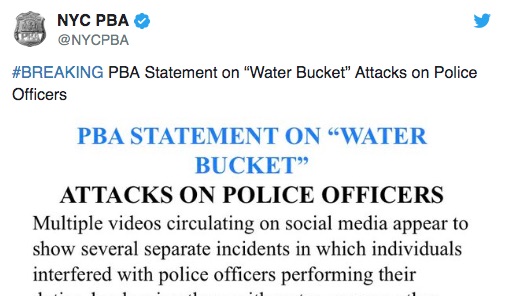 Earlier this week, New York police officers were attacked by a lawless mob with buckets of water.
The incident was caught on video as the officers were making an arrest.
The New York Post reports:
Stunning videos posted online Monday show uniformed NYPD cops getting drenched with buckets of water by brazen young men in Harlem and Brooklyn, law enforcement sources told The Post.
The New York City Police Benevolent Association (PBA) issued a statement:
#BREAKING PBA Statement on "Water Bucket" Attacks on Police Officers pic.twitter.com/i8O2Ke59c5

— NYC PBA (@NYCPBA) July 22, 2019
Others condemned the attacks on Twitter.
#RespectThePolice This #hit has to STOP! NYPD searching for suspects after officers doused with water in Harlem. pic.twitter.com/0LyQSqbydM

— #LouieEE# (@dependedonthem) July 24, 2019
Disturbingly, the initial attacks spurred copycat incidents.
More cops doused with water.

To the young NYPD cops out there, ignore your bosses, take the rip, but protect yourselves.

If you let the thugs disrespect you, you'll never get that respect back on the street. It's life threatening dangerous.

— John Cardillo (@johncardillo) July 25, 2019
President Trump denounced the attacks and called on New York City Mayor Bill de Blasio to "act immediately."
We love our Law Enforcement Officers all around this great Country. What took place in NYC with water being tossed on NYPD officers was a total disgrace. It is time for @NYCMayor @BilldeBlasio to STAND UP for those who protect our lives and serve us all so well…

— Donald J. Trump (@realDonaldTrump) July 25, 2019
Since the attacks, several arrests were made.
The NYPD has busted three men, including a reputed Crips gang member on probation, in connection with the caught-on-video water-dousing of cops in Harlem and Brooklyn, law enforcement sources told The Post on Wednesday.
Today its water but the next potential attacks against police officers could be much more serious.