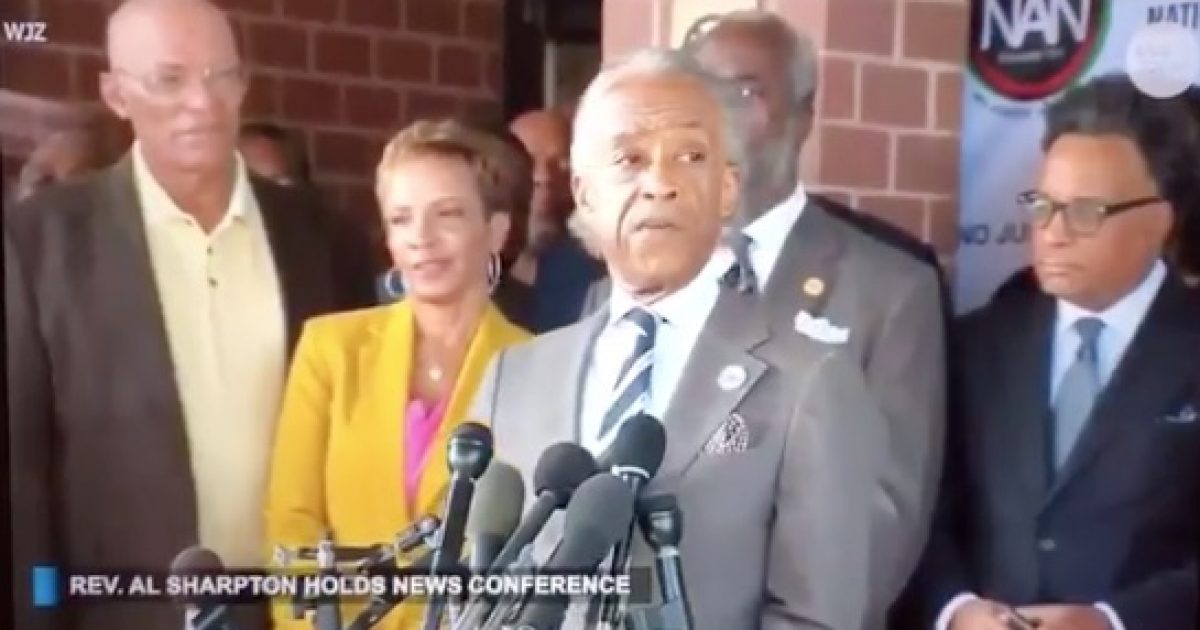 Democrat 2020 presidential candidates are so desperate to gain black voter support, they are swooning all over Al Sharpton.
Sharpton is in the headlines for defending Representative Elijah Cummings (D-MD) after he was called out by President Trump for not doing enough to clean up the streets of Baltimore.
Baltimore resident Kimberly Klacik took videos showing the horrible condition of Baltimore neighborhoods, including abandoned buildings and trash (watch video).
More trash. More concerned residents. People live in the home with the silver van. This is @RepCummings district. This has nothing to do with race. Let us all pray the city removes the trash & install cameras to catch the individuals dumping on the property. #WestBaltimore pic.twitter.com/CCaRH5c0aO

— Kimberly Klacik (@kimKBaltimore) July 27, 2019
Cummings, serving his 13th term in congress, represents the majority-black district of Baltimore, Maryland.
Supporters of Cummings rallied behind him with endless cries of racism against President Trump, including the anti-Trump media and Sharpton.
President Trump took to Twitter, calling Al Sharpton a "con man" and "trouble maker."
I have known Al for 25 years. Went to fights with him & Don King, always got along well. He "loved Trump!" He would ask me for favors often. Al is a con man, a troublemaker, always looking for a score. Just doing his thing. Must have intimidated Comcast/NBC. Hates Whites & Cops! https://t.co/ZwPZa0FWfN

— Donald J. Trump (@realDonaldTrump) July 29, 2019
Not surprising, Democrat 2020 presidential candidates were all in to provide air cover for Sharpton.
California Senator Kamala Harris said Sharpton "spent his life fighting for what's right."
.@TheRevAl has spent his life fighting for what's right and working to improve our nation, even in the face of hate. It's shameful, yet unsurprising that Trump would continue to attack those who have done so much for our country.

— Kamala Harris (@KamalaHarris) July 29, 2019
Massachusetts Senator Elizabeth Warren said she will "stand with my friend Al Sharpton."
.@TheRevAl has dedicated his life to the fight for justice for all. No amount of racist tweets from the man in the White House will erase that—and we must not let them divide us. I stand with my friend Al Sharpton in calling out these ongoing attacks on people of color.

— Elizabeth Warren (@ewarren) July 29, 2019
Former Vice President Joe Biden said President Trump used "the power of the presidency to unleash racist attacks."
.@TheRevAl is a champion in the fight for civil rights. The fact that President Trump continues to use the power of the presidency to unleash racist attacks on the people he serves is despicable. This hate has no place in our country. It's beneath the dignity of the office.

— Joe Biden (@JoeBiden) July 29, 2019
Earlier this year, many of the Democrats running for the party's nomination attended and spoke at Sharpton's annual National Action Network conference and backed a reparations legislation effort introduced by Texas Democrat Representative Shelia Jackson Lee.
Lee issued a press release on her idea for legislation for a Commission to Consider Reparations Proposals for Africans-Americans.
Harris did not address the reparations legislation in her speech but backed the measure in response to a question from Sharpton.
"When I am elected president I will sign that bill," Harris told Sharpton (watch video 1:10 mark).
Democrat presidential candidates are bending over backward to kiss Sharpton's ring because they know the black vote is crucial in the upcoming Democrat primaries.