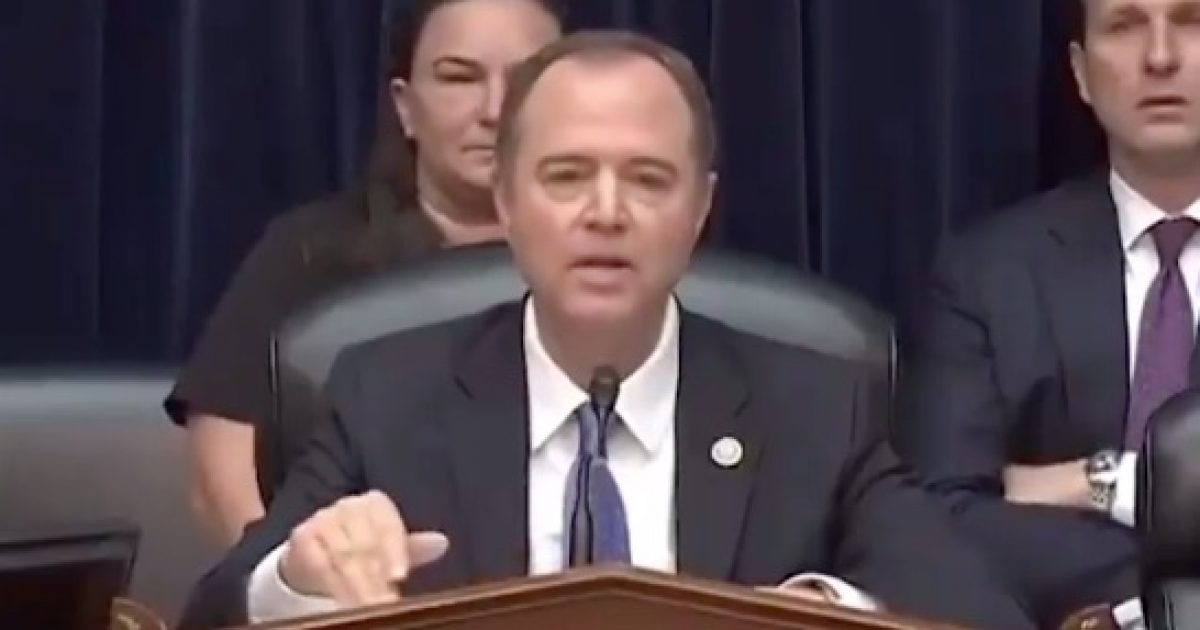 House Democrats are making a mockery of congressional hearings.
Democrats are outraged over a whistleblower complaint alleging a "promise" made by President Trump to a foreign national leader in a phone conversation, immediately prompting calls for President Trump's impeachment.
While the phone transcript between President Trump and Ukrainian President Volodymyr Zelensky was made public, it wasn't enough to satisfy House Democrats as they continue digging for anything to impeach the president.
Acting Director of National Intelligence Joseph Maguire was called to testify on Thursday over his handling of the whistleblower, "who alleges that President Trump used his office to solicit interference by a foreign country in the 2020 U.S. presidential campaign."
Shockingly, House Intelligence Committee Chairman Adam Schiff used the highly watched hearing as a propaganda tool.
Schiff gave a dramatic and fictitious summary of the Ukraine phone call transcript in his opening statement.
In part, Schiff claimed President Trump said during the phone call to the Ukraine president "I have a favor I want from you" and to "make up dirt on my political opponent."
Only after Schiff was called out by Ohio Republican Representative Mike Turner did he admit parts of his statement was made up saying it, "was meant to be at least part in parody" and continued if that wasn't clear there "is a separate problem in and of itself."
Watch Turner call out Schiff.
WATCH: Rep. Adam Schiff made a completely fake account of the Trump-Ukraine call transcript… Then had to say it was meant to be a "parody" when called out. pic.twitter.com/s3lc8ht98p

— CNSNews.com (@cnsnews) September 26, 2019
President Trump Tweeted Schiff "lied to Congress" and called for Schiff to "immediately resign."
…sound horrible, and me sound guilty. HE WAS DESPERATE AND HE GOT CAUGHT. Adam Schiff therefore lied to Congress and attempted to defraud the American Public. He has been doing this for two years. I am calling for him to immediately resign from Congress based on this fraud!

— Donald J. Trump (@realDonaldTrump) September 27, 2019
Schiff responded to President Trump.
You engaged in a shakedown to get election dirt from a foreign country.

And then you tried to cover it up.

But you're right about one thing — your words need no mockery. Your own words and deeds mock themselves.

But most importantly here, they endanger our country. pic.twitter.com/Qha74pwW8m

— Adam Schiff (@RepAdamSchiff) September 27, 2019
There was no shortage of criticism over Schiff's absurd parody.
In a democracy, there is nothing more controversial than impeachment. It is not a laughing matter. It is not parody. It is divisive and will cause deep strife. So why would Adam Schiff fabricate information and behave like this?

Schiff's behavior was disgraceful. https://t.co/6uFkdCldWG

— Ari Fleischer (@AriFleischer) September 26, 2019
Calls for Adam Schiff to resign after he read a grossly exaggerated, distorted, ridiculously embellished version of the transcript into the record. He argued it was just 'parody'. But, it's his admission that reading the transcript verbatim wouldn't have sounded bad.

— MARK SIMONE (@MarkSimoneNY) September 27, 2019
Watch Schiff's full opening statement.
Schiff's words and actions are grossly irresponsible and he must be held accountable for misleading Americans with his fictitious opening statement.