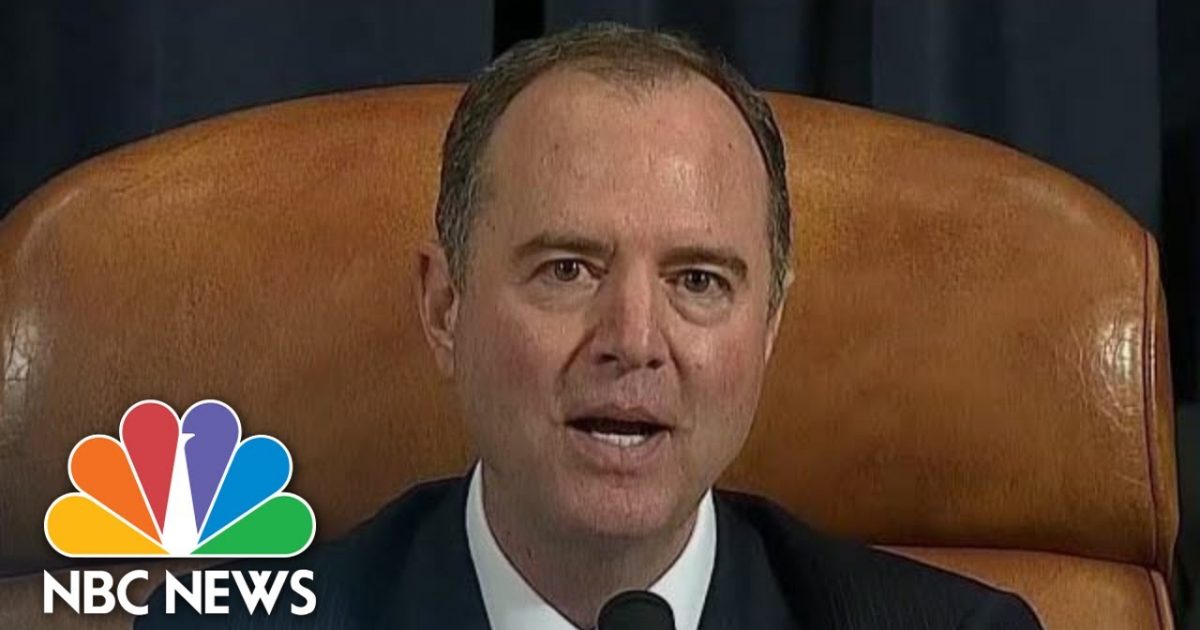 House Democrats' impeachment inquiry of President Trump is backfiring and fueling record fundraising donations for his 2020 campaign.
Representative Adam Schiff (D-CA) the chairman of the House Intelligence Committee, is leading the impeachment inquiry by holding both secret and public hearings on President Trump.
The Washington Examiner reports:
The Republican National Committee fundraising juggernaut, fueled by a GOP backlash to the House impeachment effort to force President Trump from office, scored another record in October and pushed the bank account past $61 million.
WOW!

$3,144,257 RAISED YESTERDAY!@realDonaldTrump loves these huge numbers.

He knows that it isn't enough to end this IMPEACHMENT SCAM. We're upping the goal to $5 MILLION!

ALL DONATIONS WILL NOW BE TRIPLE-MATCHED! Donate below ⬇️https://t.co/PF5sYpoZGt

— Brad Parscale (@parscale) November 14, 2019
When Dems & media go nuts @realDonaldTrump's campaign gets stronger!

In 24 hours after #HearsayHearing:

✅$3.1M in small dollar donations

✅One of our best fundraising days ever… again!

Dems just don't get it. They are filling our bank and improving our turnout every day!

— Brad Parscale (@parscale) November 14, 2019
Last weekend, top House Democrats attacked President Trump.
Schiff spoke at the California Democrats 2019 State Convention in Long Beach, California, and slammed President Trump by calling him a "charlatan" and proudly spoke about being part of the resistance against the president, saying, he is a "profound threat to democracy."
Rep. Adam Schiff: "There is nothing more dangerous than an unethical president who believes that he is above the law." pic.twitter.com/g40R5Lf2yi

— The Hill (@thehill) November 17, 2019
House Speaker Nancy Pelosi appeared on CBS' "Face the Nation" and went after President Trump, saying he's "way over his head" and called him an "imposter."
The desperation is setting in. ?‍♂️pic.twitter.com/wmKvhi2qqD

— DR. ETIQUETTE ?‍♂️ (@DrEtiquette) November 18, 2019
Pelosi also said President Trump, "undermines our national security, jeopardizes the integrity of our elections, dishonors his own oath of office — that's about impeachment."
Earlier this year, House Speaker Nancy Pelosi (D-CA) opposed impeachment but as time went on, it appears that out of desperation Pelosi was forced to make an about-face and forge ahead with the impeachment process.
President Trump criticized Pelosi calling her "the least productive Speaker of the House."
Nancy Pelosi will go down as the least productive Speaker of the House in history. She is dominated by AOC Plus 3 and the Radical Left. Mexico and Canada, after waiting for 6 months to be approved, are ready to flee – and who can blame them? Too bad!

— Donald J. Trump (@realDonaldTrump) November 20, 2019
While Democrats' push forward to impeach President Trump, their efforts are resulting in an epic fundraising outcome for the president's 2020 campaign.