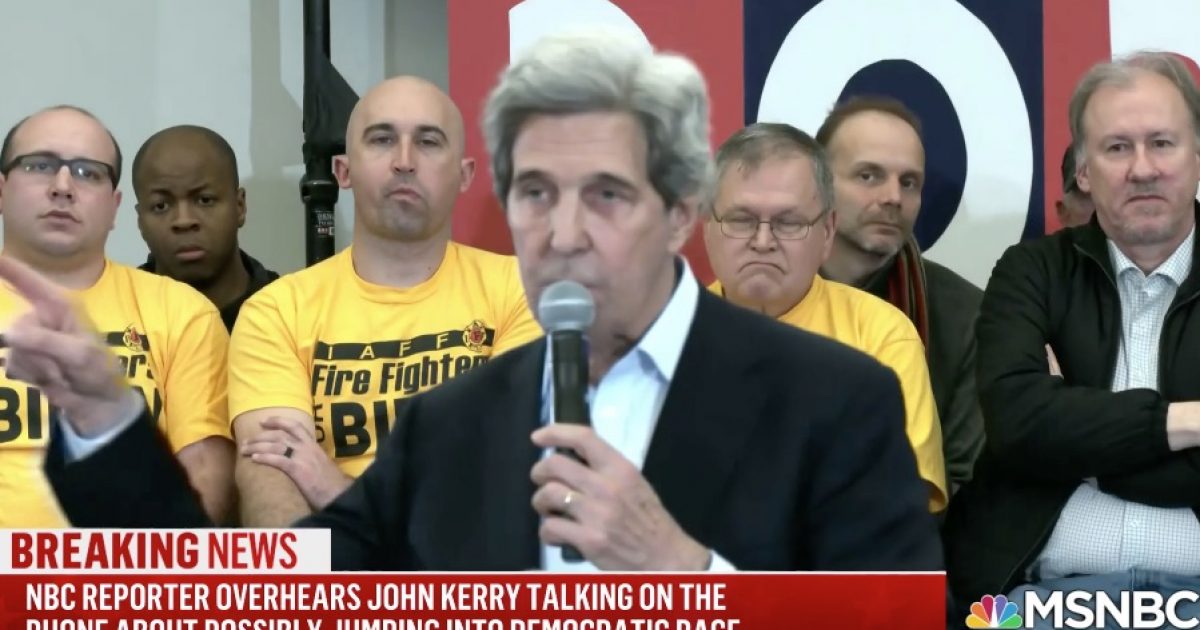 Former Secretary of State John Kerry exploded on Twitter denying he was going to jump into the 2020 presidential race.
Kerry's outburst was in response to a news story that claimed he was concerned about the viability of 2020 presidential candidate former Vice President Joe Biden's candidacy and the rise of presidential candidate Vermont Senator Bernie in the polls.
The Iowa Caucus is today and the contest holds big stakes for the Democrats running for president.
All eyes are on Iowa to find out which of the candidates will be able to get measurable political support.
Going into tonight's contest, establishment Democrats have consistently criticized Sanders.
Kerry was reportedly overheard on a telephone call at a hotel in Iowa by an NBC News analyst discussing "the possibility of Bernie Sanders taking down the Democratic Party — down whole."
It's reported Kerry talked about steps he would need to take to enter the presidential race, including stepping down from board of director posts and not getting paid for speeches.
Former Secretary of State John Kerry was overheard Sunday on the phone at a Des Moines hotel explaining what he would have to do to enter the presidential race amid "the possibility of Bernie Sanders taking down the Democratic Party — down whole." https://t.co/6uHWgSdg6x

— NBC Nightly News with Lester Holt (@NBCNightlyNews) February 3, 2020
When questioned, Kerry denied the comments and posted a tweet saying, "any report otherwise is f—ing (or categorically) false."
A short time later, Kerry took his original tweet down and posted another one minus the expletive and was highly complimentary of Biden.
As I told the reporter, I am absolutely not running for President. Any report otherwise is categorically false. I've been proud to campaign with my good friend Joe Biden, who is going to win the nomination, beat Trump, and make an outstanding president.

— John Kerry (@JohnKerry) February 2, 2020
Establishment Democrats are not hiding their disdain for Sanders to be the Democratic nominee.
It's reported former President Obama would attempt to stop Sanders if it appeared he was going to win the Democrat primary.
Former Secretary of State and former presidential candidate Hillary Clinton slammed Sanders in an upcoming documentary saying, "Nobody likes him, nobody wants to work with him, and he got nothing done."
Deep divisions within the Democrat Party have been simmering for a long time and the results from the Iowa caucus will drive the wedge within the party deeper.