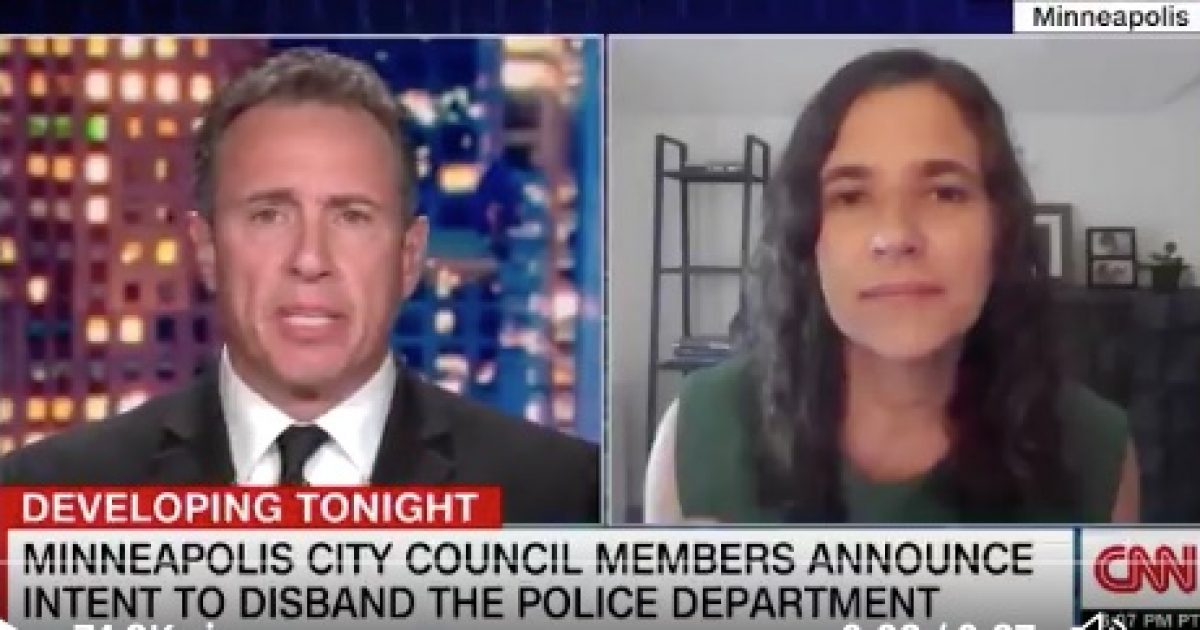 Minneapolis Democrat City Council President Lisa Bender is calling for "a police free future" over the death of George Floyd.
Floyd, a 46-year-old Minnesota black man, died while being arrested by police.
The arrest was caught on video and went viral showing Floyd was pinned down by a white police officer's knee to his neck.
Video coverage of Floyd's arrest shows he was unarmed and restrained with handcuffs.
Trending: VP Harris Attends College Football Game While Thousands of Illegal Migrants Congregate Under TX Bridge
The Minneapolis City Council has a veto-proof majority and is all for disbanding the police force.
The Washington Post reports:
Nine Minneapolis City Council members announced plans Sunday to disband the city's police department. They did not offer a timeline or propose specific actions but said they are "taking intermediate steps toward ending" the force. The group represents a majority on the 12-person council.
During an interview Monday night, Bender told CNN's Chris Cuomo, "a police-free future is very aspirational."
Minneapolis City Council President Lisa Bender told CNN's Chris Cuomo tonight that a "police free future" is "the goal."pic.twitter.com/94WSE8Xowp

— Cameron Cawthorne (@Cam_Cawthorne) June 9, 2020
Earlier in the day, Bender was asked by CNN host Alisyn Camerota what should she do if during the middle of the night her home is broken into and she responded, "I know that that comes from a place of privilege."
CAMEROTA: "What if in the middle of the night my home is broken into. Who do I call?"

BENDER: "Yes, I hear that loud and clear from a lot of my neighbors. And I know — and myself, too, and I know that that comes from a place of privilege." pic.twitter.com/WhubQ9yJIf

— Eddie Zipperer (@EddieZipperer) June 8, 2020
Bender was harshly criticized on social media.
The lunatic Left now says it's a sign of "privilege" not to want your home broken into. #ThisIsNuts https://t.co/ZYaIR7JBVN

— Ted Cruz (@tedcruz) June 8, 2020
This is insane https://t.co/SCvVAIu7Yj

— Dan Bongino (@dbongino) June 8, 2020
This is probably the dumbest thing I've ever heard https://t.co/CBrz51A4oF

— Taylor Story (@TaylorStory96) June 8, 2020
Not all officials in Minneapolis want to defund their police department.
At an anti-police protest over the weekend, Minneapolis Democrat Mayor Jacob Frey was asked by an organizer, "Yes or no, will you commit to defunding Minneapolis's police department?"
The organizer also pointed out to the crowd that Frey is up for reelection next year.
Frey said, "I do not support the abolition of the police department," and was immediately shouted down by the crowd with chants of, "Go home Jacob, go home! Go home Jacob, go home!"
Here's the video of Mayor Frey being asked about defunding the police. pic.twitter.com/MAeVVLfVo7

— Daily Caller (@DailyCaller) June 7, 2020
Minneapolis has problems but moving forward to defund and dismantle the Minneapolis Police Department is a radical step which would lead to more crime and violence.