News
Seattle Mayor Durkan Calls Takeover of Capital Hill Zone 'patriotism'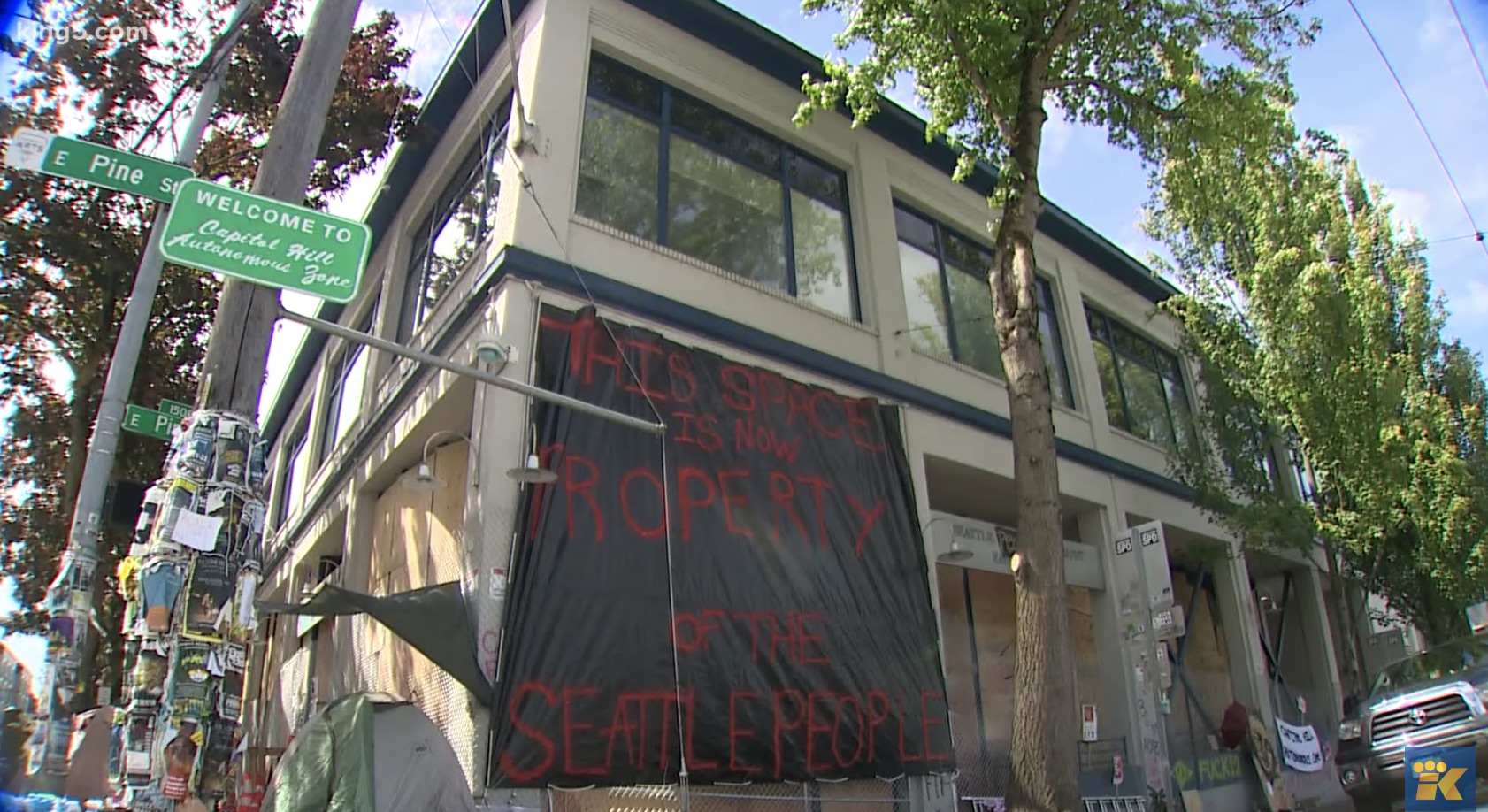 Seattle Democrat Mayor Jenny Durkan is defending protesters commandeering several street blocks in the city calling their actions "patriotism."
The takeover was sparked over the death of George Floyd, a 46-year-old Minnesota black man who died while being arrested by police.
Floyd's arrest was caught on video and went viral showing him pinned down by a white police officer's knee to his neck.
Protesters blocked six blocks of the area known as Capitol Hill and renamed the area Capitol Hill Autonomous Zone, or CHAZ for short.
Within this perimeter is the East Precinct police building, where police officers were ordered to clear out and the building shuttered.
With no police presence, Seattle protesters, some armed, set up check points for access to the area.
Durkan pushed back on criticism from President Trump and defended the protesters calling their actions "patriotism."
The New York Post reports:
"It's simply not true. Lawfully gathering and expressing first amendment rights, demanding we do better as a society, and providing true equity for communities of color is not terrorism. It's patriotism."
Durkan told CNN host Chris Cuomo it's "more like a block party atmosphere it's not an armed takeover."
Seattle Mayor Jenny Durkan says the six-block autonomous zone in her city known as CHAZ, where armed Antifa types have driven off police and set up checkpoints, is "more like a block party atmosphere" than an "armed takeover." pic.twitter.com/5S5RcXyID1

— Scott Morefield (@SKMorefield) June 12, 2020
Durkan also downplayed the fact some protesters are armed.
Seattle Mayor Jenny Durkan attempts to downplay the fact that armed 'protesters' have taken control over 6 blocks in the city and says Capitol Hill has been autonomous her whole lifetime

— Benny Johnson (@bennyjohnson) June 11, 2020
Meanwhile, protesters stormed City Hall demanding Durkan defund the police and called for her to resign.
And after over an hour inside City Hall, protesters are headed out and chanting "Defund SPD" as they leave. #seattleprotest pic.twitter.com/jE6eXkm905

— Jake Goldstein-Street (@GoldsteinStreet) June 10, 2020
During a press conference earlier this week, Washington Governor Jay Inslee was asked about the Capitol Hill Autonomous Zone and he said he was unaware.
The New York Post reports:
"Well, that's news to me. So I'll have to reserve any comment about it. I have not heard anything about that from any credible source," the governor said, adding a chuckle.
@GovInslee has no clue what's even going on.

"That's news to me"

— Benny Johnson (@bennyjohnson) June 11, 2020
A list of demands was released earlier this week, including calls to defund the police.
The New York Post reports:
The protesters released a letter detailing their demands on Tuesday that include dismantling the police force and ending the use of armed force, guns, batons and riot shields, and abolishing the court system, among a list.
President Trump weighed in on social media.
Anarchists just took over Seattle and the Liberal Democrat Governor just said he knows "nothing about that".

— Donald J. Trump (@realDonaldTrump) June 11, 2020
Radical Left Governor @JayInslee and the Mayor of Seattle are being taunted and played at a level that our great Country has never seen before. Take back your city NOW. If you don't do it, I will. This is not a game. These ugly Anarchists must be stopped IMMEDIATELY. MOVE FAST!

— Donald J. Trump (@realDonaldTrump) June 11, 2020
Seattle's radical local government officials have lost control over the city.
Calling the takeover of parts of the city "patriotism" is outrageous but it shows how dangerous it is to put Democrats in power.
At this point, there's no telling how this will end but it will likely not end well.