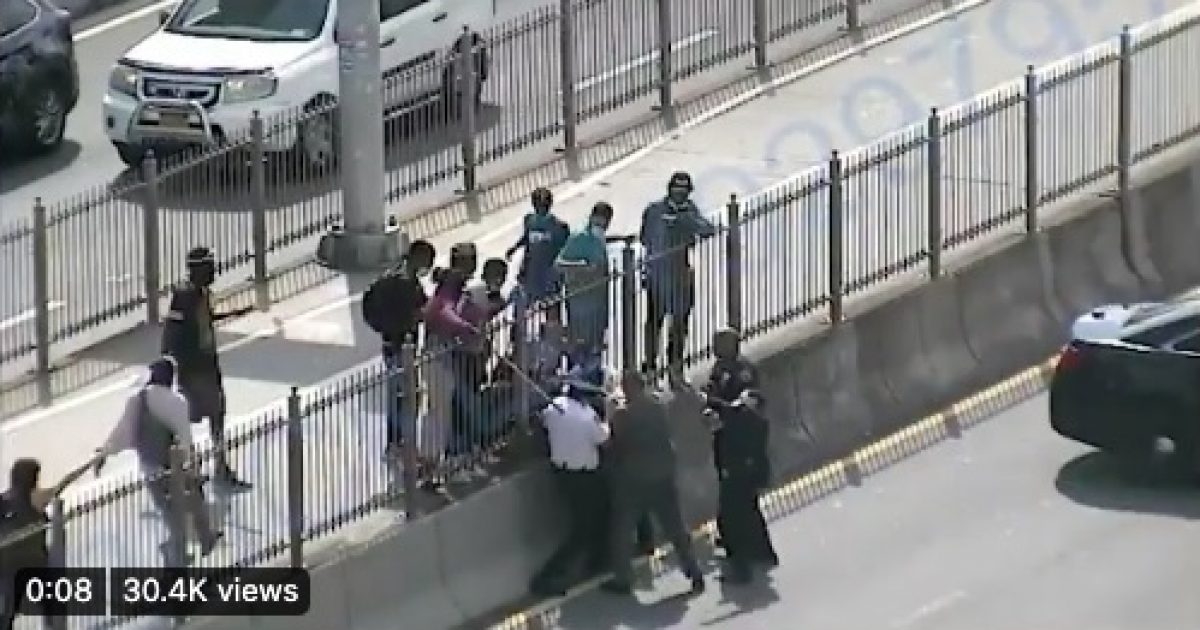 A man accused of violently assaulting New York City police officers was arrested but let go without bail.
New York City police officers were violently attacked on the Brooklyn Bridge this week and the attack was caught on video.
A video of the attack and pictures of the injured officers were released to the public.
Three officers violently attacked by protesters crossing the Brooklyn Bridge. The officers sustained serious injuries.

This is not peaceful protest, this will not be tolerated. pic.twitter.com/cYuDX8G7ku

Trending: Illegal Male Migrants Caught Hitching Rides on Trains in Texas

— NYPD NEWS (@NYPDnews) July 15, 2020
Additional footage of the serious injuries our officers sustained on the Brooklyn Bridge. pic.twitter.com/Ja9lTpQu0G

— NYPD NEWS (@NYPDnews) July 15, 2020
One of the men accused of attacks against the police was arrested but released.
The New York Post reports:
Quran Campbell, 25, is accused of socking the highest-ranking uniformed cop several times in the face as Monahan tried to arrest him after Campbell had allegedly punched another NYPD officer and lieutenant near the Manhattan approach to the bridge.
One of the injured was the NYPD Chief of Police Terence Monahan.
Breaking News: the highest ranking member of the NYPD @NYPDChiefofDept has been attacked & assulted by protestors in NYC pic.twitter.com/csHpcyfoLF

— Rob O'Donnell (@odonnell_r) July 15, 2020
Monahan was interviewed on Fox News about the attack on himself and fellow police officers and blasted the judge's decision on social media.
The cops being disparaged on NYC streets are the same cops who run into burning buildings, save choking babies and cardiac victims, go toward gunfire to keep people safe — and are the heroes of 9/11. They need the support of the communities they serve. pic.twitter.com/NE0Rfzd81h

— Chief Terence Monahan (@NYPDChiefofDept) July 17, 2020
Quran Campbell is captured on video for the nation to witness him viciously assault 3 cops in uniform — 1 who lost consciousness. Judge Robert Rosenthal's reckless decision to release Mr. Campbell WITHOUT BAIL endangers every NYer and the officers who risk it all to protect them. pic.twitter.com/yDBDt3oKaP

— Chief Terence Monahan (@NYPDChiefofDept) July 17, 2020
The latest attacks come as New York City Democrat Mayor Bill de Blasio doubled down on his decision to disband the police department despite a spike in violence.
Violent crimes are significantly on the rise in New York City but de Blasio recently reached an agreement with the New York City Council to cut $1 billion from the city's police department budget.
With crime and violent shootings escalating, de Blasio continues to ignore the dire consequences of defunding and disbanding the police department.
Critics slammed de Blasio on social media.
Every single NYC Police Officer should walk off the job, today!

Do Not return to work until De Blassio Resigns!

— ???????? ????? (@IAmericanMama) July 15, 2020
It's outrageous New York City's new bail reform law played a role in Campbell's release.
Releasing violent criminals back onto the streets not only sends a message to other criminals that they won't be held accountable but endangers the lives of citizens and police officers.