News
Rep Ocasio-Cortez Rallies Democrats Over Supreme Court Vacancy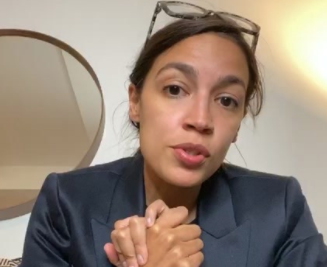 New York Democrat Representative Alexandria Ocasio-Cortez rallied Democrats to support former Vice President Joe Biden for president.
Ocasio-Cortez's urgency was rooted in the sudden death of Supreme Court Justice Ruth Bader Ginsburg.
Now is not the time for cynicism or hopelessness. There is and continues to be political possibility to preserve our democracy & move forward.

It will require each & every one of us, from the streets to the Senate, to grow in courage, strength, and strategy. But it is possible.

— Alexandria Ocasio-Cortez (@AOC) September 19, 2020
In addition to tweets, Ocasio-Cortez continued with her urgent call for action in a 40 minute Instagram video.
During her comments, she tried to motivate the Democrat base by saying, "Let this moment radicalize you."
She added Ginsburg's death crystallizes the importance of the upcoming election and called it "… the fight for our lives."
Ocasio-Cortez called the Supreme Court vacancy "earth-shattering" because President Trump can replace a liberal seat on the court and promoted Biden saying, "We need to focus on voting for Joe Biden. I don't care if you like him or not."
President Trump promised to move to promptly fill the vacancy.
.@GOP We were put in this position of power and importance to make decisions for the people who so proudly elected us, the most important of which has long been considered to be the selection of United States Supreme Court Justices. We have this obligation, without delay!

— Donald J. Trump (@realDonaldTrump) September 19, 2020
In a statement, Senate Majority Leader Mitch McConnell said the Senate will have a floor vote on the vacancy saying, "President Trump's nominee will receive a vote on the floor of the United States Senate."
Ginsburg's sudden death sets up a huge political battle to fill the Supreme Court vacancy and it will have a major impact on the November elections.