News
CNN Bias Coverage of First Day of Judge Barrett Confirmation Hearing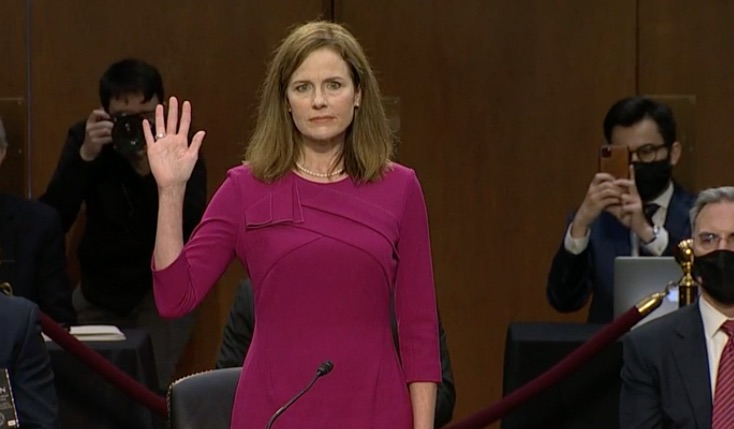 CNN is being called out for not airing a substantial portion of the first day of Judge Amy Coney Barrett's Senate Judiciary Committee confirmation hearing. Judge Barrett's confirmation hearing began on Monday morning.
Fox News reports:
The liberal CNN raised eyebrows by cutting away from the hearing early on, instead having pundits bash Barrett and then pivoting to mostly coverage of the coronavirus pandemic.
Critics of CNN's decision to selectively air the confirmation hearing commented on social media.
Presumably, they're worried voters will be impressed by Judge Barrett. https://t.co/aXDm93qnJt

— Ted Cruz (@tedcruz) October 12, 2020
I think we can officially call "time of death" on CNN as a news network, with them not showing the Barrett hearings.

— Dr. J.J. by the Bay (@flagg_colonel) October 12, 2020
Why is CNN the only network not carrying the confirmation hearing for Supreme Court nominee Judge Amy Coney Barrett? 🤔🤔🤔 pic.twitter.com/NdGKEl0zip

— Francis Brennan (@FrancisBrennan) October 12, 2020
First Supreme Court confirmation hearing I can remember that @CNN isn't covering gavel to gavel (you wouldn't even know it's happening). @MSNBC and @FoxNews both have it on. Why? pic.twitter.com/RW7TBY2Jbh

— Chris DeRose (@chrisderose) October 12, 2020
There was no shortage of personal attacks against Judge Barrett.
https://twitter.com/helaineolen/status/1315713629019234304?s=20
https://twitter.com/JillFilipovic/status/1315656369211572224?s=20
Even Judge Barrett's dress selection for Monday was criticized.
Women lawyers & judges wear suits, including dresses with jackets, for work. It is not a great look that ACB consistently does not. No male judge would be dressed in less than correct courtroom attire. It's inappropriately casual. pic.twitter.com/90VSbsgaU2

— Leslie McAdoo Gordon 🇺🇸 (@McAdooGordon) October 12, 2020
Judge Barrett is well qualified for the U.S. Supreme Court and has overwhelming support from her colleagues and students.
However, the personal attacks against Judge Barrett are not surprising given her detractors are unable to challenge her judicial career record and character.
It's also not surprising CNN, an anti-Trump major news network, would deny its viewers the opportunity to watch Judge Barrett's confirmation.
Obviously, CNN choosing to not air a substantial portion of Judge Barrett's confirmation hearing is nothing short of censorship.
Critics of Judge Barrett will do everything possible, from silencing her voice or launching personal attacks, because they can't attack her career record.