News
Biden Avoids Discussing Chicago Gun Violence at Event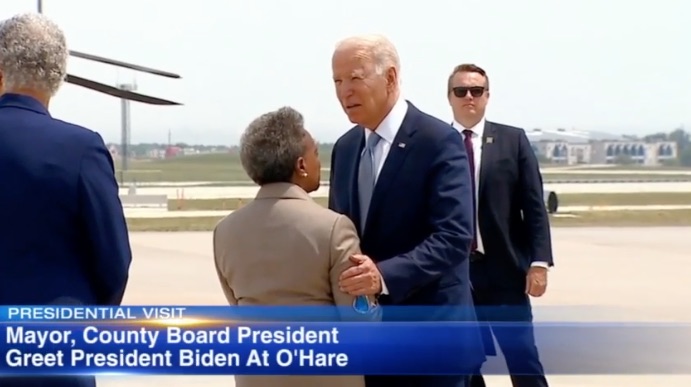 President Biden traveled to Illinois this week for a speaking engagement but avoided commenting on Chicago's rampant gun violence.
The president spoke at an event in the suburbs of McHenry County focusing on his Build Back Better plan with no mention of the deadly violence roiling the Windy City.
Breitbart reports:
Despite the death and suffering, Biden stuck to his "happy" theme Wednesday and touted the proposed changes the country could make to child care.

"All the data shows — if you're able to take your child to work … you get increased productivity for the parent. … It really makes a … difference in terms of generating economic growth as well," the president said. "It's a win-win."
Chicago Democrat Mayor Lori Lightfoot briefly met with Biden on the tarmac.
How could Joe Biden meet with Lori Lightfoot and not talk about the mountain of dead bodies piling up in Chicago from her failure to lead on cracking down on crime? https://t.co/fy5zh4PF56

— Breitbart News (@BreitbartNews) July 8, 2021
Just prior to Biden landing in Chicago, three undercover officers were shot on the South Side while on assignment.
Critics of Lightfoot commented on the violence in Chicago including Democrats – Chicago Alderman Raymond Lopez and former Illinois Governor Rod Blagojevich.
Crime surge continues in the Windy City as 100 people were shot over the weekend. Raymond Lopez, alderman of the 15th ward in Chicago, with reaction. https://t.co/M5tQ9Ipsjo

— Todd Piro (@ToddPiro) July 8, 2021
Chicago Mayor Lori Lightfoot meets with President Biden amid a surge in gun violence.

"Go after the gangbangers and she could make the city a lot safer," @governorrod tells Newsmax. https://t.co/VlT7z8drtO pic.twitter.com/7mJI3GUKBw

— NEWSMAX (@NEWSMAX) July 8, 2021
https://twitter.com/RealJamesWoods/status/1412831857389887488?s=20
Joe Biden will visit a suburb of Chicago today.

Why isn't he visiting communities in the inner city that are being destroyed by violence?

— Andrew Pollack (@AndrewPollackFL) July 7, 2021
Pres. Biden flew to the #Chicago airport for a 3 min or so tarmac summit w/ the Chicago Mayor before quickly leaving for the suburbs to deliver a speech on governement spending–not addressing the violence, crime & murders happening in Democrat-run #DefundthePolice Chicago! pic.twitter.com/s39CySmXqV

— PARIS (@PARISDENNARD) July 7, 2021
Chicago citizens voiced their concerns on social media.
I never felt so unsafe in my life, and I grew up in Chicago. I refuse to let my teenaged daughter experience downtown and the city as I did at her age. The gangs and uncivilized people have total control. Please bring in the national guard or whatever it takes.

— Angie Gathings (@angie_gathings) July 8, 2021
https://twitter.com/leeclay48/status/1413142221554020353?s=20
I live in Chicago, West Loop, 2 car-jackings in front of my building in the past month, people being robbed at gunpoint, walking to dinner. What covid didn't kill, the thugs will.

— Ultra-MAGA Deplorable Petr (@PragueArtist) July 8, 2021
Over the Independence Day holiday weekend, over 90 people were shot in Chicago including a 6-year-old girl.
Chicago Tribune reports, "It was the most people shot over a July 4 holiday weekend since at least 2017, when 103 people were shot between 3 p.m. Friday, June 30 and 6 a.m. Wednesday, July 5, 2017, according to Tribune data."
The holiday weekend included scorching heat, fireworks, crowds, and bouts of mayhem, including more than 90 people shot. https://t.co/xvtRyNgPsk

— Chicago Tribune (@chicagotribune) July 6, 2021
While Biden avoids discussing Chicago's gun violence and Lightfoot drags her feet to fix the crisis, Chicago citizens remain surrounded and threatened by rampant violence.