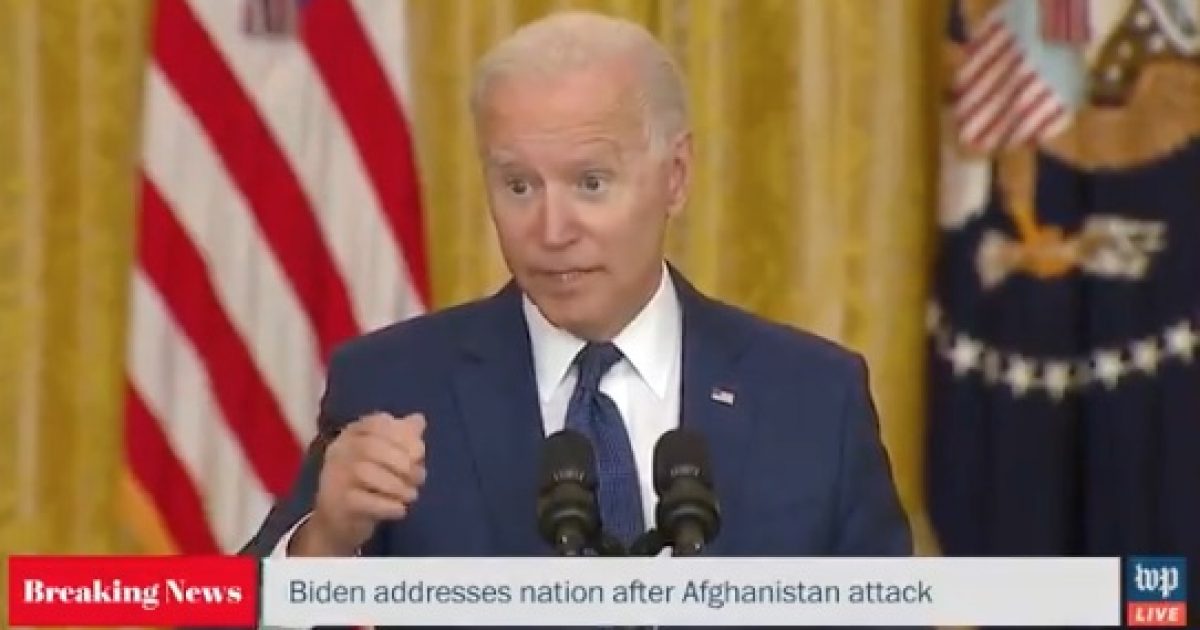 President Biden didn't deny that U.S. officials provided the Taliban with a list of Americans and Afghanistan allies to work with the Taliban for evacuation purposes.
Biden held a press conference on Thursday following the horrific suicide bombing at the Kabul airport gates in Afghanistan that killed at least 13 U.S. service members, over 90 Afghans, and caused numerous serious injuries.
During the press conference, Biden was asked if such a list was provided to the Taliban and he said, "there may have been."
Such a list could essentially serve as a "kill list" to hunt down the Americans and Afghan allies who are behind enemy lines.
Joe Biden: "there may have been" a list of American and ally names given to the Taliban pic.twitter.com/X28iSuuaUh

— RNC Research (@RNCResearch) August 26, 2021
Politico reports:
U.S. officials in Kabul gave the Taliban a list of names of American citizens, green card holders and Afghan allies to grant entry into the militant-controlled outer perimeter of the city's airport, a choice that's prompted outrage behind the scenes from lawmakers and military officials.
Some news outlets reported on Politico's story.
US officials gave Taliban list of evacuees: report https://t.co/Y91RBfxUgD pic.twitter.com/nR52bcsQVD

— The Hill (@thehill) August 27, 2021
Meanwhile, major news networks ignored this important story.
.@ABC, @CBSNews, and @NBCNews spike incompetent Biden admin giving the Taliban a 'kill list' of Americans and our allies https://t.co/NGVnEx0jEU

— NewsBusters (@newsbusters) August 27, 2021
Critics slammed the decision to give such vital information to the Taliban on social media.
If true, this qualifies as borderline treason. We need to find out who is responsible for giving the Taliban a hit list and they need to go to prison. https://t.co/WTkeRytHmN

— Dan Crenshaw (@DanCrenshawTX) August 26, 2021
U.S. officials leaned into the Taliban for safety by handing them lists of Americans and Afghans that were evacuating.

Let me repeat: U.S. officials entrusted the Taliban with a kill list of Americans and Afghans.

— Rep Andy Biggs (@RepAndyBiggsAZ) August 26, 2021
Good morning to everyone, except our deranged leaders, who gave the Taliban an American 'Kill List.'

— Election Wizard (@ElectionWiz) August 27, 2021
Sounds like a list to me. What "group of people" would they be identifying??? Like USA Marines?? ? #ImpeachBiden #Treason #CourtMartialJoeBiden pic.twitter.com/LfhIRyWaEh

— ♥️ Joy Reborn ♥️ (@RedRising11) August 26, 2021
White House press secretary Jenn Psaki said the White House plans to continue working with the Taliban.
Biden Admin: We Will Continue Coordination with Taliban to Get Americans Out After U.S. Troops Leave pic.twitter.com/LcCJ03d63s

— Breitbart News (@BreitbartNews) August 27, 2021
As time winds down to the August 31 U.S. troop withdrawal deadline, the Biden administration's decisions over the Afghanistan crisis are making America and the world a much more dangerous place.