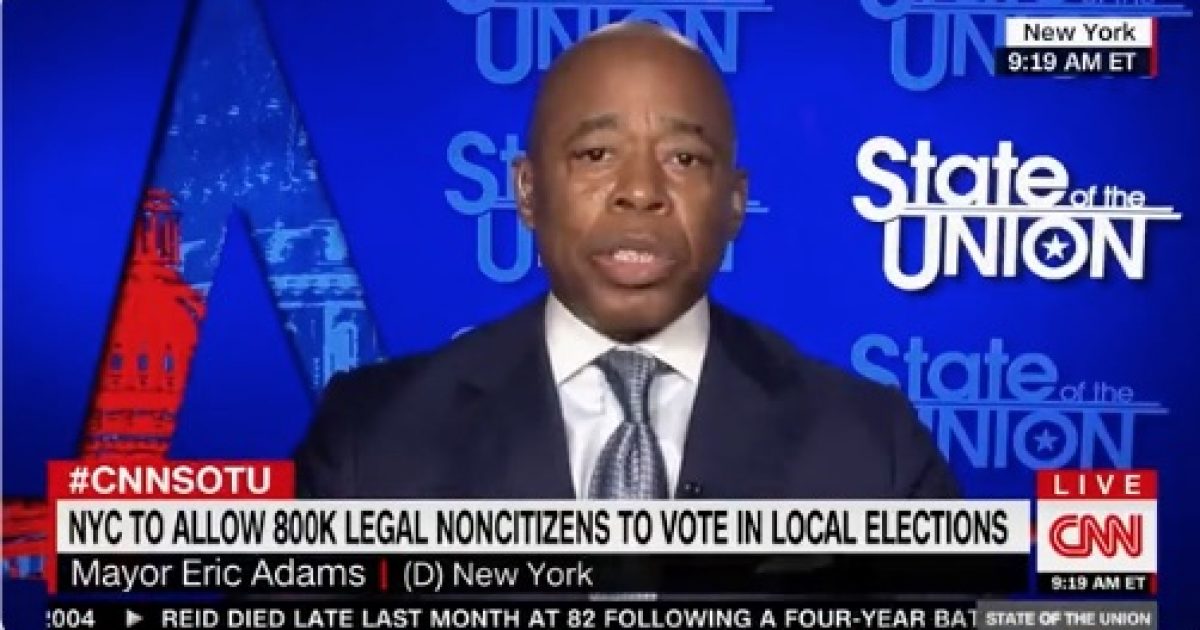 New York City Democrat Mayor Eric Adams backed the law that gives non-citizens the right to vote in local elections.
The bill, "Our City, Our Vote Bill," was passed last year by the New York City Council and became law today.
The bill will allow an estimated 800,000 visa and green card holders to vote in city elections.
Adams backed the bill during an interview with CNN host Jake Tapper.
CNN's Jake Tapper slams New York City Mayor Eric Adams for allowing non-citizens to vote in his city.

"What do you say to all the people who went through the process — the difficult process — of becoming an American citizen?" pic.twitter.com/oW5ffrx54Q

— RNC Research (@RNCResearch) January 9, 2022
Initially, Adams questioned the bill because it gave the right to vote for non-citizens who lived in the city for only 30 days.
But Adams backed off that concern.
Critics expressed their concerns on Twitter.
First Eric Adams extends all de Blasio's COVID mandates. Now he says he will sign legislation allowing noncitizens to vote in city elections—after they've lived here just 30 days. pic.twitter.com/CGFcYLVLLQ

— Kelly Jane Torrance (@KJTorrance) January 9, 2022
No matter how you slice it or try to explain it, the fact of the matter is having non citizens voting in U.S. elections doesn't make one bit of sense. Even CNN's Jake Tapper couldn't get the NYC Mayor to make sense of this dangerous legislation. pic.twitter.com/YslRhVYNtT

— PARIS (@PARISDENNARD) January 9, 2022
Adams also raised concerns because he hired his brother for a city post in the police department.
Blatant nepotism. I warned of Adams corrupt behavior during my campaign. Political favors hurts democracy. https://t.co/vhVo2bSTYC

— Curtis Sliwa (@CurtisSliwa) January 9, 2022
It looks like New York City will not change much under Adams' management of the city.
Allowing non-citizens to vote is outrageous and it really does undermine our Democracy and makes a mockery of those who go through the time and expense of becoming a citizen.
As Tom Borelli put it during his NewsmaxTV appearance, "Meet the new boss. Same as the the old boss."
Meet the new boss. Same as the old boss. https://t.co/mdKtOGHPf7

— Tom Borelli, Ph.D. (@tomborelli) January 9, 2022