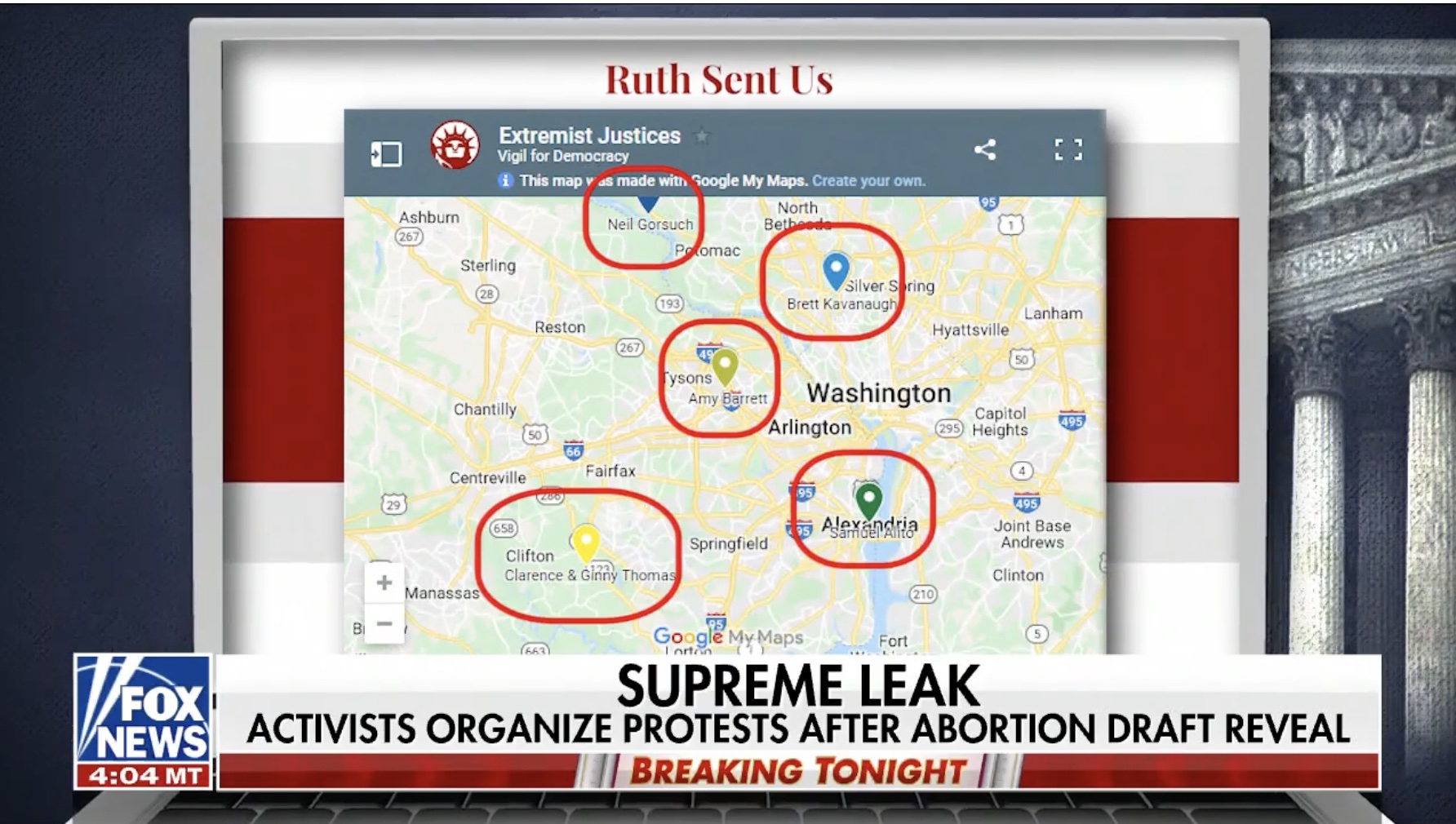 Democrat activists are targeting the homes of Supreme Court Justices over the pending decision on Roe vs Wade.
A leaked copy of a draft decision that overturned Roe vs Wade by the Supreme Court outraged pro-abortion backers and the outrage over the possible ruling ignited Democrat activists.
Abortion rights protests form outside home of Supreme court justices https://t.co/Fpl0ThycU4 pic.twitter.com/vT9nrwCOoY

— New York Post (@nypost) May 8, 2022
An organization called "Ruth Sent Us" reportedly published the home addresses of the Justices that were selected by Republican presidents.
Fox News reports:
The activists are organizing under the moniker "Ruth Sent Us" and have published the supposed home addresses of Justices Amy Coney Barrett, John Roberts, Samuel Alito, Brett Kavanaugh, Clarence Thomas and Neil Gorsuch.
Ruth Sent Us is on Twitter and Facebook.
According to its website, the Ruth Sent Us protests at the Supreme Court Justices homes will be on May 11.
The name of the group is based on the views of late Supreme Court Justice Ruth Bader Ginsburg.
Ironically, Ginsburg was a critic of Roe vs Wade because it was nationally encompassing and did not include law makers.
In addition to protests at the homes of Supreme Court Justices, it's reported Catholic Masses will also be targeted by pro-abortion activists.
'Ruth Sent Us' activists plan abortion protests at churches, Supreme Court justices' homeshttps://t.co/zX6Uw6veGj pic.twitter.com/nNSK7btq6u

— The Washington Times (@WashTimes) May 5, 2022
Ruth Sent Us also posted comments by pro-abortion New York Democrat Senator Kirsten Gillibrand.
https://twitter.com/RuthSentUs/status/1522693215530352641?s=20&t=HfqExfb1ddghlEP75tC9sQ
Democrat activists are engaging in an intimidation game to pressure Supreme Court Justices to change their decision to overturn Roe vs Wade.
Protesting outside homes and possibly Catholic churches is a very aggressive move that will backfire on the pro-abortion movement.