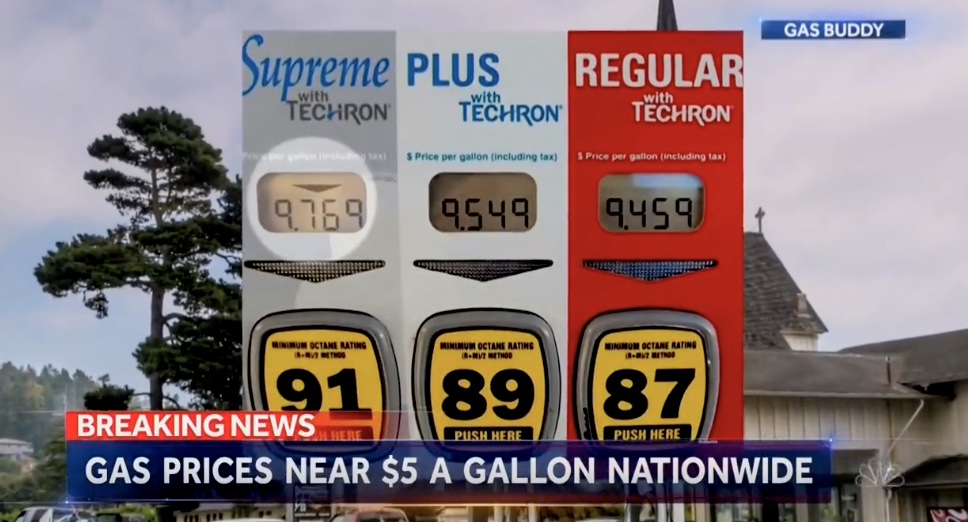 Gas prices in the U.S. soared to record highs in all 50 states, including Washington, D.C., under President Biden's watch.
DailyMail.com reports:
Gasoline prices set another new record high on Tuesday, averaging $4.92 per gallon for regular just as many families prepare to set off on their summer vacations.
https://twitter.com/jonnajarian/status/1534203678126661632?s=20&t=dWIRqVWQ5msD4OUjFERSeQ
In parts of California, gas is as high as $10 a gallon.
Record high gas and diesel prices in California are leading to higher freight costs — which "means higher costs for consumer goods." pic.twitter.com/FI0Ketwnu7

— RNC Research (@RNCResearch) June 6, 2022
With no relief in sight, Americans are frustrated and are changing their driving habits and lifestyles, such as driving less, taking public transportation, not filling up, and crossing state lines to comparison shop to name a few.
Americans are voicing their concerns over the high gas prices and are considering other lifestyle changes such as getting a second job and taking a second look at how they will vote in the upcoming elections.
Frustrated Americans say it's "time to get a second job" just to make ends meet amid the #BidenGasHike.

"I try not to follow all the politics — but I'm starting to now." pic.twitter.com/c4lCvYHSQr

— RNC Research (@RNCResearch) June 7, 2022
Critics commented on social media.
https://twitter.com/RichardGrenell/status/1533996403323678720?s=20&t=dWIRqVWQ5msD4OUjFERSeQ
Even @CrackerBarrel is hurting … most of their clientele is 65 + … High gas prices, overall inflation and a tanked stock market is really hurting this geographic … something has to go and going out to eat is not an option … thanks Brandon

— Joe Bonsall (@joebonsall) June 7, 2022
https://twitter.com/yesisworld/status/1533902411089182720?s=20&t=dWIRqVWQ5msD4OUjFERSeQ
Rasmussen Reports and the Heartland Institute report on American's concerns over high gas and energy costs.
A new national telephone and online survey by Rasmussen Reports and the Heartland Institute finds that 82% of Likely U.S. Voters are concerned about rising energy and gasoline prices, including 60% who are Very Concerned. Only 14% aren't concerned about the rising price of energy.
Inflation and rising gas prices are hurting Americans and they are going to hold Biden and the Democrats accountable for the economic pain they are facing in the midterm elections.
Watch our latest interview on how Biden's war on fossil fuels is punishing Americans.