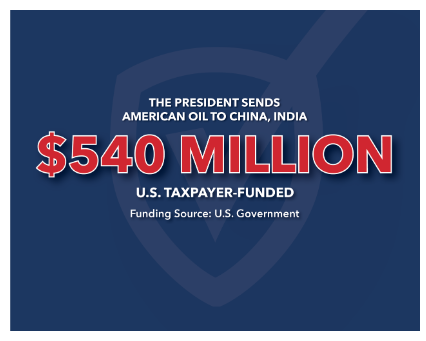 Commentary by Adam Andrzejewski originally published by RealClearPolicy.com
As drivers all over the country continue to pay around $5 per gallon for gasoline, President Joe Biden sent Europe and Asia more than 5 million barrels of oil in June.
At $108 per barrel, the 5 million barrels represent $540 million worth of oil.
The fuel was part of a reserves release sent overseas even as U.S. gasoline and diesel prices hit record highs, Reuters reported. The surprising move came as Biden has taken steps to lower record pump prices, including asking Congress to suspend the federal gas tax for three months, a request that's unlikely to be answered.
As Reuters reported that the president sent oil overseas, Biden renewed a call for gasoline suppliers to cut their prices. The Energy Department's Strategic Petroleum Reserve is releasing about 1 million barrels per day through October, draining the reserve, which last month fell to the lowest since 1986, Reuters reported.
While U.S. crude futures exceed $100 per barrel and gasoline prices are above $5 a gallon in 20 percent of the country, American officials say those prices could be higher if the reserve hadn't been tapped. Now, China, India, Italy, France, and The Netherlands are getting American oil.
Fox News' Tucker Carlson recently lambasted Biden for giving our oil to China, calling China "our main enemy in the middle of a gas shortage."
"We're giving it away to a government whose whole goal is to displace us on the global stage and crush us," he said.
__________
By Adam Andrzejewski – The #WasteOfTheDay is brought to you by the forensic auditors at OpenTheBooks.com