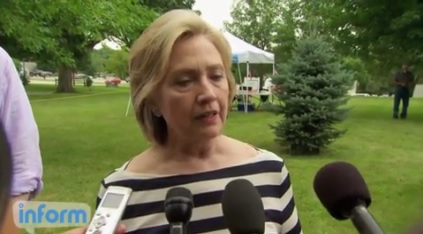 Democrats are growing increasingly frustrated with Hillary Clinton's mismanagement of the email scandal. Though Hillary is still showing a strong lead in the polls for her party's nomination, it is being reported that Democrats are considering other options, even outright urging other party favorites to jump into the race.
As rumors continue to swirl around the prospect of Vice President Joe Biden pursuing a run for the 2016 Democratic presidential nomination, fellow Democrats on Sunday said they would welcome him to the race. "It would be nice to have one more lifelong Democrat in the race," former Maryland Gov. Martin O'Malley said on ABC's "This Week."

…California Gov. Jerry Brown (D), who himself pursued presidential bids in 1976, 1980 and 1992, said Biden should give "very serious consideration" to a 2016 run. "All I can say is, if I were Hillary, I would say [to Biden], 'Don't jump in.' If I were Joe Biden, I'd probably give it very serious consideration," Brown told NBC's Chuck Todd on Sunday.
It doesn't stop with Joe Biden. Democrats still haven't given up on Elizabeth Warren's possible candidacy, even though she has insisted multiple times that she is not running.
"I think she'd be beating Hillary. That's my opinion," said Charles Chamberlain, executive director of Democracy for America, who earlier this year worked on a campaign to draft Warren to run for president. "Based on the support Bernie's got and the way he's surged in the polls, that shows anything is possible," he added in reference to Vermont Sen. Bernie Sanders, who has exceeded expectations by drawing big crowds on the campaign trail.

…Chris Shelton, the newly elected president of the Communications Workers of America, said cracking down on Wall Street's excesses are a top priority for his union's members.

"My members and the general public believe that it's time we got some economic justice in this country. The ultra, ultra rich are running things," he said. "My members and the public think it's time Wall Street stops controlling Main Street and Main Street has a shot to get this country moving again." Shelton said he would love it if Warren gave a second though to running for president.

"Have you heard that Elizabeth Warren is going to change her mind? I'd be real interested if she did," he said.
The GOP may have too many candidates on the stage, but it sounds like the Democrats are struggling to find a single candidate that can revive some of the enthusiasm Barack Obama created on the campaign trail in 2008.
I can't say I blame the Democrats for their lack of enthusiasm.
After all the broken promises of the Obama Administration (the scandals, the spying, the botched implementation of ObamaCare, the list goes on and on here), why should they believe that progressives can get anything done in Washington? Actions speak louder than words, and the Obama legacy proves that Democrats will break their campaign promises. And the promises they manage to keep, they fail to implement effectively.